Fleetway Travel Site Content Could Be Discriminatory EU Commission Says
Written by Roberto Castiglioni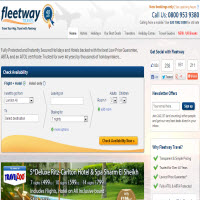 Fleetway Travel website terms and conditions could be discriminatory, the head of EU commission passenger rights said.
Last August, our investigation into online travel agents found that only 10% of the 38 websites reviewed provided information for passengers with special needs. Seventy per cent of websites did not provide sufficient information, twenty per cent did not provide any information.
The European Commission was informed of the outcomes of this investigation. On 10 September, the Head of passenger rights at the EU Commissions acknowledged the report on Fleetway Travel and outlined who should carry out corrective action. 
"I would like to thank you for drawing our attention to some concerns regarding online travel agents, and notably to the terms and conditions on the website of Fleetway Travel which could be considered as discriminatory," Jean Louis Colson said. "As you are aware, the responsibility for enforcement and application of Regulation 1107/2006 lies with Member States. The Commission has no competences to intervene directly with companies. Therefore it is good that you are sending your letter directly also to the UK CAA who is the competent authority in the UK, and I am confident that the UK CAA will duly address this issue."
Fleetway Travel Terms & Conditions section  state that "should you have any particular requirements such as special meals, wheelchair assistance*, cots for infants, or carriage of windsurfers, bicycle, golf or other sports equipment, please advise us when you are making your booking. An administration charge may be required in respect of requests received, levied by us or the carrier."
Charging a fee for booking or providing wheelchair assistance is illegal across Europe, in the United States and other countries..
Jean Louis Colson also shed light on the process used by National Enforcement Bodies to ensure compliance with air travel Equality laws.   
"As you know, apart from pro-active inspections as regards the application of Regulation (EC)1107/2006, Member States authorities depend very much on complaints or observations from passengers or private entities such as your Reduced Mobility Rights Ltd. in order to detect and tackle non-compliance with the Regulation. We are therefore grateful for all the information you are providing to us and to NEBs to help them to improve the application of the Regulation."
As of 17 October Fleetway Travel remains defiant to the call for putting its website in compliance with equality law (EC)1107/2006. To the best of our knowledge, the CAA has yet to act on the issue. ABTA, the association of British Travel Agents also pledged to take action on case of non compliance to equality law. Fleetway Travel is a member of the organization.
Update 23 October 2013
"We have now amended our Terms and conditions and our website for when people book online: https://www.fleetwaytravel.com/tandc.pdf Thank you for bringing it to our attention.I hope that the other travel agencies you havent mentioned directly follow suit also," a spokesperson for Fleetway Travel posted on our Facebook interface.
Following Reduced Mobility Rights reports a number of websites, including Expedia, LastMinute, Travelzoo, and FlightCentre.co.uk updated their information for passengers with special needs.