Wheelchair Air Travel: Tips And Tricks To Get It Right
Written by Roberto Castiglioni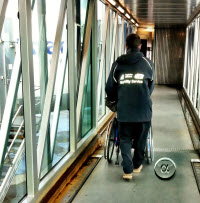 People who need a wheelchair to go about their everyday life are wary of the risks of loss or damage associated to air travel, but may be unaware of their rights.
We take a closer look at services available to wheelchair users at European airports and on board aircraft, which kind of assistance they are entitled to receive when traveling by air, the differences between U.S. and European legislation, what to do in case of loss or damage, and some useful tips and tricks to make the journey seamless.
Airport services
European legislation assigns airports responsibility to provide assistance to passengers with special needs from their arrival at the airport, up to their embarkation, including assistance with getting seated inside the aircraft and storage of hand luggage. Passengers are also entitled to receive help with completion of check-in process, shipment of checked luggage, and clearing security and passport checks points. The same services are available to passengers arriving by air at any European airport. Passengers must pre – notify their airline of their needs at least 48 hours before their flight.

 

Most airports allow passengers traveling with personal wheelchairs to use them until the boarding gate;

however, this is not a legal requirement and some airports may request travellers to ship their mobility device as checked luggage and make use of airports' wheelchairs. 

 

Where airport wheelchairs available are not suitable for the specific needs of the passenger, the airport should allow the passenger to make use of his/her mobility device up to the boarding gate.

 

Users of mobility devices like scooters or larger electric wheelchairs requiring being disassembled for carriage may be asked to make use of alternative wheelchairs available at the airport. It is crucial for passengers traveling with scooters or electric wheelchairs to communicate technical information of their mobility devices at least 48 hours prior to their flight. It is also highly recommended to have copy the device's assembly instructions.

 
Airline services
European legislation applies to all flights departing from any airport inside the European Union, and to incoming flights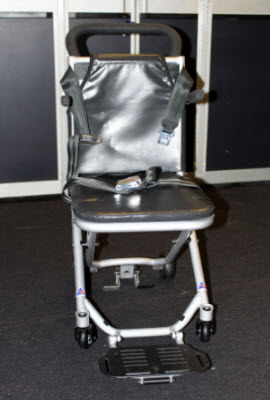 operated by European airlines only. By example, all flights leaving London Heathrow to Singapore fall under the covenant of EC1107/2006, but only flights operated by British Airways and Virgin Atlantic have to comply with EU law when traveling from Singapore to London Heathrow.
Airlines must allow wheelchair passengers the transport of two items of mobility equipment free of charge. There are no weight restrictions or limitations for mobility equipment.
EU law requires cabin crew to provide passengers with special needs appropriate assistance in moving from their seat to toilet facilities when needed. However, airlines are not required to have an on board wheelchair to perform this task. The law recommends, but does not require, airlines to inform passengers with reduced mobility of the unavailability of on board wheelchairs.
Passengers who require assistance eating, toileting, or cannot make their own way to an emergency exit are obligated to travel with a companion. Airlines are recommended, but not required, to make "all reasonable efforts" to seat passenger with reduced mobility next to their traveling companion. Exceptions to this recommendation can be made for safety requirements only.
Differences Between U.S. and EU legislation
There are significant differences between U.S. and European legislation. 
US legislation assigns airlines full responsibility for provision of services to passengers with special needs; EU legislation shares responsibility between airports and airlines, assigning the vast majority of services to airports.
Unlike EU legislation that does not apply to flights to the European Union operated by non EU airlines, U.S. legislation CFR 14 Part 382 applies to all flights from and to the United States, regardless of the nationality of the airline.
People traveling with their own wheelchair from and to the United States are not required to pre-notify their airline. However, especially when traveling from America to Europe, this is highly recommendable to avoid significant delays with assistance at EU airports.
U.S. law requires airlines to provide adjoining seating for a person assisting a passenger with severe impairment, whereas EU legislation simply recommends air carriers to make all reasonable efforts.
American legislation states that where the passenger disagrees with the need for an assistant the airline cannot charge for their seat. There is no such provision in EU law.
U.S. law requires airlines to provide priority storage and carriage of manual foldable wheelchairs in the aircraft cabin. There is no such requirement in European legislation. Air France is one of the few EU carriers which offers storage and carriage of manual foldable wheelchairs in the aircraft cabin.
American law requires airlines to have on board wheelchairs to facilitate movement inside the cabin and that at least 50% of all aisle seats are equipped with movable armrests, whereas there are no such requirements in European legislation.
EU law limits maximum compensation for damaged mobility equipment to the limit set forth by the Montreal Convention, currently 1,131 SDR (approximately £1,140/$1,760). U.S. legislation waives this limit for domestic flights only.
What to do in case of loss or damage
In the unlikely event your wheelchair is lost or damaged, you will have to fill in the Property Irregularity Report (PIR) at the airport. Please retain a copy of the PIR for future reference.  Please check if your airline requires you to send copy of the PIR or file another form. It is essential to complete this process as soon as possible, always within seven days from the date of the original PIR.
EU legislation requires airports to provide temporary replacement of damaged or lost mobility equipment, albeit not necessarily on a like-for-like basis. Once you have completed your PIR at the airport, demand to be provided a temporary replacement. Airports cannot refuse to comply with your request.
Tips and tricks 
Pre-notify! Tell the airline of assistance you require, best if at time of booking, always 48 hours before your flight. Remember: it is illegal for airlines to charge for pre-notification. If they ask you to call a premium number, ask them to be called back.

 

Take out a wheelchair insurance! Because of airlines limiting damage refunds to approximately £1,140 it is

always a wise move to take out a wheelchair insurance. Terms and conditions vary from provider to provider, so it is always worth doing some research before purchasing a cover. Please note that all wheelchair insurance sold in Europe have restrictions for travel to the United States and Canada. Spending £30 or £40 is always better than having to fork out thousands in case of loss, theft or damage.

 

Have copy of your assembly manual with you! If you travel with an electric wheelchair or a scooter make sure you have copy of the assembly manual with you.

 

Get to the airport with time to spare. It's always best to spend some time browsing a duty free shop rather than being rushed to the gate through a crowded airport. 

 

In case your wheelchair is lost or damaged make sure you fill in the Property Irregularity Report at the airport, and follow up with the airline within one or two days at the most. If you are at an EU airport, demand to be provided a replacement. EU airports are required by law to provide you one.

 

Do not hesitate to ask! If you have doubts, or want more information, feel free to contact Reduced Mobility Rights. We provide free independent advice to passengers with special needs.

 
Do you travel by air with your personal wheelchair? Have you flown recently? Have your say.
 About the author
Founder and Editor-in-Chief of Reduced Mobility Rights, Roberto Castiglioni is an expert of airport accessibility, management and support procedures of passengers with special needs and air travel related regulations. He has been a frequent flyer for the past three decades and has several years of experience as travelling partner of a passenger who requires assistance.
Roberto provides accessibility and access consulting services to airports and airlines. He is a member of the UK Civil Aviation Authority Access To Air Travel Working Group. He is also a member of the Easyjet Special Assistance Advisory Group. Esaag provides Easyjet with strategic guidance and practical advice on the evolving needs of passengers requiring special assistance.