Flying With Guide Dogs For The Blind Checklist And Tips
Written by Roberto Castiglioni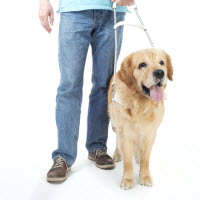 A recent case involving a blind passenger who had his guide dog quarantined at Gatwick airport brought to light a number of issues to consider before flying.
A growing number of people with visual impairments use guide dogs to go about their daily life. Living is not just going about your daily routine, and frequently involves traveling. While ground transportation remains the preferred mean of travel, more and more people take the leap of faith to fly with their guide dogs.
In recent weeks, Reduced Mobility Rights assisted a passenger who wished to travel with his guide dog from Italy to the United Kingdom. This case helped us observe some of the hurdles travellers can come across when flying with guide dogs.
Not all airlines can carry guide dogs
While the Pet Scheme is a Pan European reality, airlines may be subject to national regulations that supersede the Scheme. By example, the United Kingdom requires airlines bringing guide dogs into the UK should be registered and have an agreed Memorandum of Understanding (MOU) with the Animal Health and Veterinary Laboratories Agency.
Mr Salvatore Petrucci was unaware of this requirement when he booked his flight from Naples to London Gatwick with Meridiana airline, Italy's second largest carrier. The airline simply told him he could not travel, and cancelled his reservation.
European carriers have a legal obligation to "make reasonable efforts to propose an acceptable alternative to the person in question", something Meridiana did not do.
In simpler words, Meridiana should have offered Mr Petrucci to fly with an airline allowed to carry his guide dog at the same price he would have paid with the carrier of choice.
Thanks to coordinated efforts of Italy's and UK's Civil Aviation Authorities and the AHVLA, Meridiana was able to file a MOU in time to carry Mr Petrucci on his chosen flight.
Countries may have national health requirements superseding those of Pet Travel Scheme
Few days before his flight, Mr Petrucci took his guide dog Ares to the veterinary to ensure he was fully compliant with the Pet Scheme. Upon arriving at Gatwick airport, Mr Petrucci learned his vet was unaware all dogs entering the United Kingdom must be treated against tapeworms not less than 24 hours and not more than 120 hours before its scheduled arrival time in the UK. The treatment must be recorded in the EU pet passport or the third country official veterinary certificate.
As a result of the missing treatment, Ares was quarantined for one day and had to be treated against tapeworm.
Demand written directions to the Animal Reception Centre
Mr Petrucci was separated from his guide dog before leaving the aircraft. Thankfully, the visually impaired man was traveling with his wife. However, neither were given written directions to the Animal Reception Centre. 
Airport assistance is not under contractual obligation to help a blind passenger make his way to where his guide dog is quarantined. They may do so on compassionate grounds. In the case of London Gatwick airport, the Animal Reception Centre is located two miles from the airport terminal buildings. 
Reduced Mobility Rights raised the issue with the Access to Air Travel Working Group of the UK CAA, of which we are members, for further discussion.
Quarantine costs money
Passengers are usually informed their pet or assistance animals may be quarantined if they fail to meet entry requirements. However, little to nothing is said about the costs.
Mr Petrucci was unfortunate enough to arrive to the UK on Easter Sunday. Sourcing a vet on the same day to have his dog treated and one day of quarantine cost the man close to £400 (€490/$680).
Quarantined animals will not be returned to their owners unless the bill is settled first. It is therefore advised to have an emergency sum available to handle an incident of this nature.
Flying with your guide dog checklist
1) It is the responsibility of the owner to ensure that his or her guide dog is fully compliant with the EU Pet Travel Scheme or equivalent regulation of the country you wish to visit;
2) Review health requirements of the country you wish to visit at least seven days before the date of travel;
3) Bring your guide dog to the veterinary for a check-up at least four days before the date of your flight;
4) Make sure the dog is micro-chipped and his vet passport is up-to-date;
5) To be allowed for transport in the main cabin, guide dogs must bear a training certificate from an authorised association (contact the airline to learn more about this requirement);
6) Airlines require you travel with a dog car safety harness or equivalent to secure your guide dog during take-off and landing and whenever the seat belt signs are illuminated;
7) Have a fleece or vet-bed for the dog to lie on and also absorbent pads which can be placed under the fleece;
8) Your usual dog food may not be available in the country you wish to visit. Make sure you bring along a sufficient amount of dog food to last for the entire journey plus two extra days to cover for possible travel delays;
9) Provide your guide dog a light meal as early as possible on the day of your flight, making sure to have some food on hand to give him in case of delays or upon arriving at destination;
10) Ensure your dog has access to water throughout the duration of the journey. Do not restrict his access to water for any reason;
11) Ensure your dog has access to a relief area as close as possible to the time of flying.