Lastminute Add Information For Customers With Disabilities To Website
Written by Roberto Castiglioni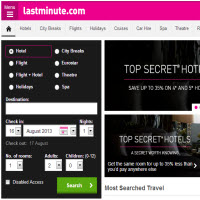 Lastminute travel agents issued a statement on Friday, confirming they are to improve their website by adding information for passengers with disabilities.
Reduced Mobility Rights on-going investigation into online travel agents websites found Lastminute.com not in compliance with Regulation 1107/2006, the air travel equality law.
On Friday, Lastminute.com issued the following statement:  "We welcome the opportunity to review the information we provide for customers with disabilities and we appreciate Reduced Mobility Rights insights into the issues they face," a Lastminute.com spokesperson said. "Our approach is to provide assistance and information to customers over the phone via our Customer Support Centre.  We consider that one-to-one conversations with our Customer Support Centre are the best way for us to serve travellers with highly individual requirements and flights with carriers which all have different services and support levels. With respect to pre-notification of needs, we provide the ability to select specific requirements in the "Special Services" section of the booking path".
Upon assessing the LastMinute.com on 31 July 2013, Reduced Mobility Rights found no mention of mandatory information for passengers with special needs. In the website's customer support Frequently Asked Questions section, we found the following statement: "Each airline has its own policies for passengers who need special assistance while travelling. Please contact us and we'll gladly help you.  Alternatively you may wish to contact the airline direct."
Lastminute.com acknowledges the findings and commits to introduce changes to upgrade its website.  "However, we recognise the value of guidance, and on reviewing our site, we have decided to add additional information for travellers with disabilities. This will highlight and clarify the way in which customers can access information and assistance with respect to their bookings and will include additional generic information about the type of assistance that may be provided by airlines and airports during their journey. Our site team is currently working on creating a new question within our FAQs section for passengers with a disability to access this information and relevant contact details.  In addition we are also looking at adding further help to our 'important information' section within the booking path. We are also reviewing the Travelocity.co.uk website, part of the lastminute.com brand family, to make equivalent improvements."
The UK CAA, national enforcement body for Regulation 1107/2006 issued the following statement. "We are concerned about the reports of potential failure to comply with various elements of equality legislation highlighted by Reduced Mobility Rights, and considering the issues raised." 
Reduced Mobility Rights is liaising with the Civil Aviation Authority and the European Commission General Directorate for Mobility and Transport to raise awareness on the findings and ensure appropriate actions are taken to amend this disconcerting situation. The investigation continues.
Related articles
Expedia Adopts Reduced Mobility Rights Recommendations
FlightCentre.co.uk Apologise To Passengers With Disabilities
Resilient eBookers Duck And Move On
Travelzoo Pledge Disability Information Compliance
Seven More ABTA Members Fail Disability Compliance Test
All But Two UK Online Travel Agents Fail Disability Compliance Test