FlightsDirect Among More Websites Failing To Meet Equality Standards
Written by Roberto Castiglioni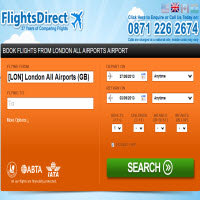 The on-going investigation into travel agents websites found several more, including FlightsDirect, not meeting equality law mandatory standards.
To date, only four out of a total of 38 audited websites were found in compliance with Regulation EC1107/2006, the air travel equality law. 
Out the four found in compliance, ABTA member Kuoni reminds us all that the road to equality is uphill. The luxury travel agent website, originally found complying with the air travel equality legislation has now released a new version of the site featuring far less information to passengers with special needs.
Another ABTA member's website, FlightsDirect.com, does not provide any information for passengers with disabilities, either mandatory or essential. 
Holiday Hypermarket (ABTA Member) notes in its website's T&Cs that "should be advised of any special assistance, needs or requirements for any passengers in your party at the time of booking."
Article 4.3 of Regulation EC1107/2006 states that airlines and their agent shall make publicly available the safety rules that apply to the carriage of disabled persons and persons with reduced mobility, as well as any restrictions on their carriage or on that of mobility equipment. Article 6.1 requires airlines, their agents, and tour operators ensure receipt of notifications of the need for assistance made by disabled persons or persons with reduced mobility at the time of booking.
ABTA member Travelpack website, not featuring mandatory or essential information for disabled passengers, adds a bizarre twist to its T&Cs pre-notification requirements requesting disabled passengers to "give us full details in writing at the time of booking." The requirement is void as the air travel equality law states that communication can be made by phone, internet, or other means.
Reduced Mobility Rights will meet ABTA management face to face on 29 August to discuss the outcome of the on-going investigation and the work ABTA is doing on accessibility. 
Dubai based bargaintravel4u.co.uk mission statement is to offer tips and advice on all your travel needs. However, the website features no mandatory or essential information for passengers with disabilities.
DirectFlights.com, AlternativeAirlines.com, travelcenteruk.co.uk, callcheapflights.co.uk and travelsupermarket.com websites make no mention whatsoever of required or essential information.
budgetair.co.uk makes no mention of required information; however, a link to the European Commission passenger rights page can be found in the customer service section of the website.
Reduced Mobility Rights recently published its guidelines for travel agents' websites. The travel agent website gold standard (link opens a new window) addresses key elements of information that must be available to passengers with disabilities while delivering a guideline of compliance to equality legislation.
ABTA member Thomson, part of travel agent giant TUI Travel, was found in technical compliance. However, the website needs further improvements to ensure ease of access to mandatory and essential information.  "Thomson takes its responsibilities with regards to reduced mobility and disabled passenger welfare extremely seriously," a Thomson spokesperson told Reduced Mobility Rights. "That's why our website offers all relevant and useful information to our customers in a clear and concise way. We recently met with the CAA to ensure we fully understand our obligations and continue to work closely with ABTA. We constantly review our website and we continue to make improvements where necessary. "
Reduced Mobility Rights findings are cause for concern for the UK CAA, national enforcement body for the air travel equality law. "We are concerned about the reports of potential failure to comply with various elements of equality legislation highlighted by Reduced Mobility Rights, and considering the issues raised," a CAA spokesperson said. The investigation continues. 
Related articles
Post Office Website Forgets People With Disabilities Fly
Lastminute Add Information For Customers With Disabilities To Website
Expedia Adopts Reduced Mobility Rights Recommendations
FlightCentre.co.uk Apologise To Passengers With Disabilities
Resilient eBookers Duck And Move On
Travelzoo Pledge Disability Information Compliance
Seven More ABTA Members Fail Disability Compliance Test
All But Two UK Online Travel Agents Fail Disability Compliance Test