Dubai Airports launch state-of-the-art services for families at T3
Written by George Sensalis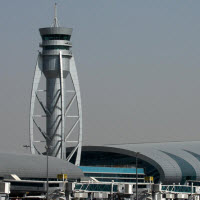 Continuous improvement of facilities and services for passengers is at the heart of Dubai International Airport growth.
Already one of the world's busiest airports, Dubai Airports announced that 6.68 million passengers passed through DXB in July, up 29.6 per cent from the same month last year.
During the first seven months of 2015, DXB welcomed 44,981,967 passengers, compared to 39,831,861 passengers during the same period last year, an increase of 12.9 per cent.
Meeting the needs of ever growing number of passengers is of the essence to deliver a world class experience, something Dubai Airports have been mastering for years.
Passengers travelling through Dubai International's Terminal 3 with family and kids should make sure to pay a visit to Concourse B's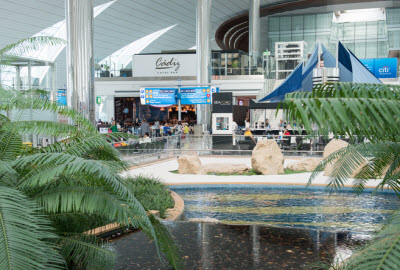 Zen Garden, where Dubai Airports has just opened a new facility for families.
Located between Gates B7 and B8, the new family facility features a children's area complete with creative play equipment, television screens featuring children's programming, and baby changing rooms for added convenience. 
The design of the area takes its inspiration from the Arabian Desert, with the topography of the floor similar to sand-dunes for children to walk around and traditional designs featured in all areas. There is even a climbing area and interactive games zone for kids who need to burn off any excess energy before the next flight.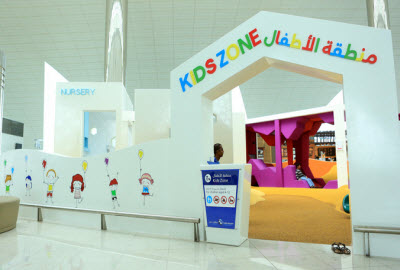 The new environment is also conveniently located close to popular food and beverage outlets such as Starbucks, Ben's Cookies, Sweet Factory, Red Carpet and Pauls.
In addition to the new family area, the main transfer area in Concourse B has also been expanded and refurbished to provide a more welcoming environment for passengers, with additional seating, warmer colours, "eco" living walls and better wayfinding signs.
Redesigned washrooms which now offer spacious and comfortable baby changing facilities and nursery areas, as well as unique products such as family toilets, "powdering booths" for women and innovative screens next to mirrors providing passengers information about flights complete the set of recent improvements.
"We recognise that passengers waiting for a flight have valuable time that they would like to put to good use, be it catching up with work, sharing a meal with friends, shopping or spending time with family. These new facilities are the first of a series of changes we are making across the terminals at Dubai International to create welcoming spaces for the comfort and convenience of our customers," Chris Garton, Executive Vice President – Operations at Dubai Airports said.