UK CAA Warns Easyjet Over Martin Sabry Debacle
Written by Roberto Castiglioni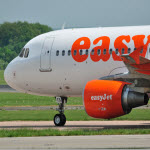 The UK Civil Aviation Authority has warned Easyjet over the incident involving Mr Martin Sabry, a disabled businessman taken off a flight at London Gatwick airport.
"In relation to the Dr Sabry's situation, we have been in touch with EasyJet regarding the incident, to remind them of their obligations to people with reduced mobility." Nic Stevenson, Assistant Director of Corporate Communications of the UK Civil Aviation Authority told Reduced Mobility Rights.
Martin Sabry, 39, from Cambridge, arrived at Gatwick airport on 4 January 2012 to catch the Easyjet service to Montpellier, France. 
After being accepted on board, Mr Sabry was targeted by the flight purser who had him removed from the airplane after having him read the safety instructions card in front of all other passengers. 
"I was made to read safety-card aloud in front all other boarding passengers and say "I can" after each sentence," he says, remarking the unnecessary humiliation. "We will not take you," the purser told him. 
"Anyone who needs extra help to use airports or fly from the UK has the right to it from their airline under European regulations enforced by the CAA, subject to safety regulations," Nic Stevenson said. "If people think they will need assistance, they should let their airline or Travel Company know in advance to try and minimise problems with their journey." This is exactly what Mr Sabry had done prior to his flight.
Easyjet has been unavailable to comment on this latest development. Earlier, the budget airline issued a statement on the situation. "We are very sorry to hear about any inconvenience or upset that was experienced by Dr Sabry on his recent flight," a spokesperson for Easyjet said. "Safety regulations state that all passengers travelling alone must be able to make their way to an emergency exit unaided; however, it seems there was a misunderstanding regarding this." 
Reduced Mobility Rights forwarded the first report on Mr Sabry's experience to the CAA on 16 January.
UPDATE 19 January 2012, 5 PM BST: Easyjet CEO Carolyn McCall Apologises to Martin Sabry