Easyjet Changes Rules For Transport of Disabled Passengers
Written by Roberto Castiglioni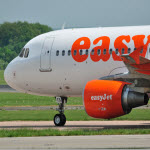 Following a recent series of incidents involving disabled passengers, budget airline Easyjet are introducing changes to their handling rules for passengers with reduced mobility.
In recent weeks, Easyjet has been under the spotlight for allegations of discrimination against the disabled.
Wheelchair bound Martin Sabry, 39, was thrown off his Easyjet flight from London Gatwick to Montpellier, France. "I explained I am paralysed from the chest down and even though I am quite active, I cannot walk," Martin said. "We will not take you," the purser told him.
The man was later re-routed onto another Easyjet flight and reached his final destination with a total delay of 12 hours.
Wheelchair bound Christian Pedoussaut, 59, was denied boarding an Easyjet flight from Bristol to Toulouse because he was alone, Bethan Evans of the Weston Mercury 24 reported.
Mr Pedoussaut's wife volunteered to accompany her husband, and the couple was allowed to board the aircraft.
In the days following Mr Sabry's episode, the UK Civil Aviation Authority warned Easyjet. "In relation to the Dr Sabry's situation, we have been in touch with EasyJet regarding the incident, to remind them of their obligations to people with reduced mobility." A spokesperson for the UK Civil Aviation Authority told Reduced Mobility Rights.
Mr Sabry's incident saw Carolyn McCall OBE, Easyjet's Chief Executive Officer, apologize in person, and triggered an internal investigation. "The investigation is primarily to understand what happened and learn lessons for the future," A spokesperson for Easyjet explained.
On Monday, Graeme MacLeod, Head of Customer Operations for Easyjet, told Reduced Mobility Rights of the outcome of the investigation. "We work hard to make travel easy and affordable for all our passengers, and can confirm that we have clarified our existing guidance to all staff for the occasions when a passenger with reduced mobility may need a travelling companion in order to minimise any misunderstanding."
Airlines require people with reduced mobility to travel with a companion if they are unable to reach emergency exits on their own. The change to the passenger handling instructions focuses on the difference between reaching and walking. 
The old rule mentioned walking without assistance, but the clarification states make your way unassisted, not necessarily walking. Albeit insignificant to some, the above change makes a massive difference for many passengers with reduced mobility, who no longer face the chance of being denied boarding or being required to travel with a companion.
"I have experienced the stricter interpretation of the old rules, associated to rudeness," Martin Sabry commented. "In this respect, these changes are a step forward, but to be successful they must be associated with good manners or the experience will remain unpleasant.
How Easyjet take on aboard the recent experiences of their customers with reduced mobility, or not, will be the ultimate self-fulfilling judgement on Easyjet as a business."