Accessible Air Travel is a Pillar of Social Inclusion
Written by Roberto Castiglioni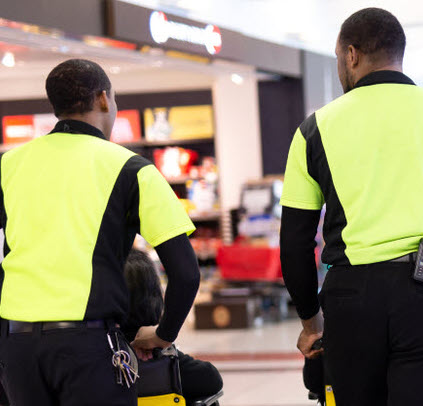 Accessible air travel is a growing trend in the aviation industry that ensures disabled travelers have the same rights and access to air transportation as any other traveler. It is an effort to make sure that those with disabilities are not excluded from participating in the joys of air travel, and that they can do so with dignity and comfort.
Accessibility in air travel provides a unique opportunity for disabled people to explore the world around them, whether it's for business or leisure. It also helps to create an environment of inclusion, where everyone is given equal opportunity regardless of their ability.
The impact of accessible air travel is far-reaching as it encourages more people with disabilities to take part in activities that were previously inaccessible or difficult for them. This has led to increased demand for disability-friendly travel options such as wheelchair accessible airplanes and other services provided by disabled friendly airlines.
But while accessibility in air travel greatly improved over the past few years, plenty remain to be done.
The introduction of low-cost airlines has revolutionized air travel in the past few years. However, many challenges still remain to be addressed in order to make air travel more accessible for all. There is much progress yet to be made in order to make air travel more accessible and enjoyable for all.
"I knew my custom-made wheelchair was going into the hold as luggage I am used to it, to lose my independence just to be able to travel," writes Nadia Hada in the EUObserver. "But I was not only losing my arms and legs during the flight, I was entering the roulette many persons with disabilities face when travelling. Would my wheelchair, the guarantee of my independence, arrive intact? Many don't."
In recent years, passengers have been reporting a lack of comfort while traveling in business class cabins. Some airlines have adopted the "suite" concept, a solution that provides more space and privacy and has created an experience that is unparalleled in the aviation industry. However, the way these spaces are laid out poses an accessibility problem for those who need to transfer from their aisle chair to their seat.
Dom Hyams, Head of Marketing Strategy at the Purple Goat Agency, recently flew business class from London to Brazil. Dom'sDom Hyams thoughts following his time in a business class suite are mixed.
"For me, choosing to upgrade at the airport to the business class product was an opportunity to benefit from a lie flat bed (as with Brittle Bones staying upright overnight can be quite difficult), have my companions that help me on the flight nearby (as they had already booked into business class), and finally, offer more ease and comfort around the aircraft during the long 11hr 40min flight from Heathrow to São Paulo.
"Entering the suite was actually quite tricky due to the fact that the sides were very high, and passageway narrow entering the cabin, with one of my party having to lift me in - which is only possible due to my short stature," Dom said. ( Click here to read Dom's full report )
"I hate flying. Well, that's not completely true. I don't mind the actual flight; I just dread all the things that could go wrong between buying a ticket and getting to my destination," writes Niamh Ní Hoireabhaird in the Huffington Post. "Here's how it usually goes: I wave goodbye to my wheelchair at the door of the airplane as I'm transferred into a special aisle chair because standard wheelchairs don't fit through the narrow aisles. I am then unceremoniously dragged through the plane on the aisle chair by the airport assistance crew. Contrary to what many believe, wheelchair users are often boarded last, so every other passenger is able to look on as I am helped to my seat."
How Airlines and Airports Can Improve Their Accessibility Services and Solutions
Accessibility is an important issue for airlines and airports alike. As the number of passengers with disabilities grows, airlines should take steps to ensure that they are providing adequate accessibility services and solutions. This includes aircraft accessibility services, and accessible airports infrastructure. Airlines and airports can take action to ensure that every passenger is given equal priority and has access to the same level of services. This would engender a sense of social inclusion at the core of air travel.
Travelling can be a stressful experience for disabled people, especially when it comes to accessing lavatories in an aircraft cabin. Unfortunately, many airlines do not provide adequate information on the location of accessible lavatories, leaving disabled passengers feeling anxious and uncertain.
Making Accessible Air Travel Easier with Technology & Automation
Next-generation solutions are already available in the real world, but, to be honest, most airlines still rely on outdated IT mainframes, which become a barrier for the adoption of more modern systems. ," Olga Stavneva, IATA's director of digital transformation, confirmed the current state of affairs. "We have a long way to go until all airlines can offer the same range of services for their customers as we do today."
AI-powered accessibility solutions are revolutionizing the way airlines serve passengers with disabilities. These solutions make it faster and easier for airlines to provide tailored services to meet the diverse needs of their customers. Through AI-based technologies, such as natural language processing, computer vision and machine learning, airlines can quickly detect customer needs and provide appropriate services. By leveraging these powerful tools, airlines can create a more inclusive travel experience for all passengers.
But modern technology doesn't just stop there. Airports use special IT solutions to manage assistance services - something that would have been impossible in the past. Operators used to rely on pre-existing software originally made for handling checked luggage, but now they have access to much more advanced and efficient tools. Modern solutions capture far more details than even before which allows assistance services to best meet the need of customers asking for additional support.
Technology is revolutionizing the way assistance solutions are delivered. Modern assistance solutions are equipped with powerful analytics and capture far more details than ever before. This allows assistance services to understand customer needs in greater detail and provide tailored support that best meets those needs. By capitalizing on the power of analytics, modern solutions can deliver personalized, efficient customer service that is tailored to each individual customer's needs.
Innovation will be key to improve social inclusion
Air travel has historically been a challenge for people with disabilities. However, with the introduction of new technology and initiatives, disabled persons are now able to enjoy the same level of social inclusion and access to air travel as non-disabled individuals. In doing so, these tools are helping to bridge the gap between disability and social inclusion. Aviation is undoubtedly one of the most efficient and cost-effective methods of transportation available today, but it is also much more than that. It is a business of freedom, bringing together people from all different backgrounds, cultures, and experiences in a way that no other form of travel can. It facilitates greater connections between nations, promotes global understanding and cooperation, and provides an opportunity for individuals to explore the world around them.