What's it Like to Fly Business Class With a Disability?
Written by Roberto Castiglioni
Flying with a disability can be an intimidating and challenging experience, but it doesn't need to be a nightmare. With careful planning, you can enjoy the freedom of flight without any large barriers.
What does it mean to fly business class as a disabled person? Flying is not just about getting from point A to point B. It is also about being able to handle the airport experience, from checking in to getting on and off the plane and feeling safe during the flight.
Flying with a disability may seem like an intimidating or even impossible task, but it doesn't have to be. Most of our readers share their positive experiences with us, but some have negative stories to tell. What's clear, is that the majority are happy.
Sometimes the feedback we get is less than great. Recently, some of our readers have been complaining about a variety of issues. From the availability of accessible toilets onboard to problems with ordering food via touchscreens, it's clear that some are not satisfied with their onboard experience. It's important to remember that most people are happy with their flights though and airlines are always working to make things better for their customers with disabilities.
Traveling by air as a disabled person certainly requires more time and planning than flying as someone without disabilities, but there are many ways to help make it easier. If you have a mobility impairment, it may be an idea to use some accessible equipment such as a wheelchair or mobility cane. Airports and airlines offer wheelchair service free of charge, making it easy for you to get around comfortably and saving you some money at the same time.
You could also travel with a personal attendant in order to travel with ease and comfort. They will accompany you on all your trips, providing constant care and attention. This is a perfect option for the elderly or those who are unable to move without assistance.
If you are considering flying, it can be an enjoyable adventure. The best way to prepare is by doing your research to find out the airlines and airports that offer services suited to your needs and deciding early on the type of assistance you would like to have. We've compiled a shortlist of the most common challenges faced while traveling by plane and what to do if you experience them, based on the personal experiences of our readers.
Business Class Cabin Accessibility
In recent years, passengers have been reporting a lack of comfort while traveling in business class cabins. Some airlines have adopted the "suite" concept, a solution that provides more space and privacy and has created an experience that is unparalleled in the aviation industry.
However, the way these spaces are laid out poses an accessibility problem for those who need to transfer from their aisle chair to their seat. If, for example, removing the door of the suite is required to access the suite, this could be a problem when transferring from the aisle chair to the seat as not all suite doors are removable.
Dom Hyams, Head of Marketing Strategy at the Purple Goat Agency, recently flew business class from London to Brazil. Dom's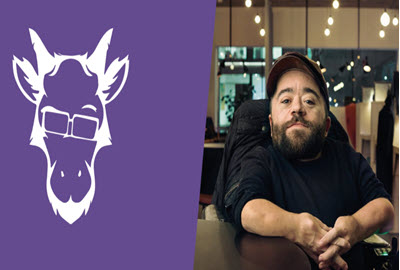 thoughts following his time in a business class suite are mixed.
"For me, choosing to upgrade at the airport to the business class product was an opportunity to benefit from a lie flat bed (as with Brittle Bones staying upright overnight can be quite difficult), have my companions that help me on the flight nearby (as they had already booked into business class), and finally, offer more ease and comfort around the aircraft during the long 11hr 40min flight from Heathrow to São Paulo.
"Entering the suite was actually quite tricky due to the fact that the sides were very high, and passageway narrow entering the cabin, with one of my party having to lift me in - which is only possible due to my short stature," Dom said.
"The seat itself was comfortable, and I was able to personally use the lie-flat functionality of the seat to ensure that I could spend much of the flight resting. I personally found the slightly bucketed seat quite uncomfortable and difficult for eating, as I tend to prefer a more perpendicular seating position, and there was no room for adjustment forward in this regard. Flight attendants were very good - although I still needed my party for any assistance around the cabin and to fetch items for me due to the design of the seats/suites - which in some ways made the whole experience more challenging at times".
Dom is in the process of sharing his feedback with the airline in the hope that they will use it to improve their business class suite. He has raised specific points about how to make it easier for passengers to access this area and is hopeful that his suggestions will be taken on board.
Accessible Toilets on Narrow-body Aircraft
The accessibility of toilets on planes can also prove challenging for some people. Unlike in the past, modern wide-body planes are equipped with at least one toilet that is accessible. In real terms, this is often a wider lavatory that offers greater support through the use of grab bars. However, narrow-body aircraft like the Airbus A320s and the Boeing 737s don't normally have accessible toilets.
One exception is Airbus, which offers the Space-Flex lavatory solution as an option on the A320 narrow-body Family. The disabled-friendly lavatory was made possible by a process that is fairly straightforward and can be easily modified. Two traditional single-Space-Flex lavatories can be converted into one Space-Flex accessible toilet of a similar size to those delivered on Airbus wide-body aircraft. When the concept design was being developed, Airbus conducted tests with experts and wheelchair users to make sure that the lavatory accommodates all of the needs of end-users.
The one thing that could be a disadvantage of these otherwise excellent toilets is their location - they're located at the back of the cabin. Make sure to take this into account when you choose your seat. With business class seats at the front of the cabin, most people would not want to have to go all the way to the rear to use an accessible lavatory.
More and more airlines are adopting this concept in their narrow-body fleet. If you require an accessible toilet on short-haul flights, you should always check with your airline if their aircraft are fitted with the Space Flex solution.
Screen Challenges for the Blind and the Deaf
As technology becomes more and more advanced, it's important to remember to consider how visually impaired people will access the content. With the introduction of newer inflight menus, you can order food and drink options straight from the screen in front of you. This new feature is designed to make it easier for people to order while they're in their seats.
The one drawback to this option is that the interface and navigation are very difficult if not impossible for people with visual impairments. Check with your airline if they have on-screen food and drink menus onboard. If yes, let them know you will require assistance from the cabin crew to place your orders.
The problem of not being able to enjoy a show without subtitles is common for people who have hearing loss. Not all programs shown onboard will have subtitles.
As many as a quarter of the population has some form of hearing impairment. Airlines are taking steps to make flights more accessible for people with hearing difficulties. If you have hearing difficulties, always check with your airline on the availability of captioned TV programs and movies onboard.
Disability Shouldn't Be What Stops You From Flying
Word of mouth is one of the most effective ways to keep fellow disabled travelers from being uncomfortable or feeling trapped on an airplane for hours on end. Being disabled is not a reason to be uncomfortable.
When it comes to traveling, it's not all about what you pack. The way you fly, plan your travel and manage your time can make or break a trip. Just a few useful tips can make all the difference in whether or not a flight is memorable for the right reasons.
Thanks to our readers' feedback and personal experience, you now know important information that you'll need to check before booking a flight with an airline. Think about your own needs, the flight duration, and what types of services are available on the flight that will make the journey more comfortable for you. When you have doubts about what kind of services and support will be available to you while on board, the best thing to do is call your airline so that you know what to expect.