Brisbane University takes lead on making flying with dementia easier
Written by George Sensalis
The Queensland University of Technology (QUT) of Brisbane, Australia, is set to release innovative tools that will make flying with dementia easier.
The global air travel industry thrives on meeting the ever-evolving needs of the traveling public. Dementia affects forty-four million people already. According to Alzheimer's Disease International, the figure will increase to 135 million by 2050. 
"We must foresee a world where cognitive impairments are an integral part of the human landscape, and embed this factor in the way airports are designed and staff trained," Reduced Mobility Rights founder Roberto Castiglioni said earlier this year at Passenger Terminal Conference in Cologne." Innovation will be essential to reshaping the way airlines and airports assist passengers with disabilities and over 65's."
Dr. Maria O'Reilly, QUT Research Fellow with the Dementia Collaborative Research Centre: Carers and Consumers, is crafting a user
guide to Brisbane Airport's Domestic and International Terminals for travellers with dementia to reduce their anxiety about travel. She is also producing a resources kit for airport staff to better address the needs of customers with dementia.
"The beginnings of this research came from reading Roberto Castiglioni's piece "Flying with dementia growing challenge in the aviation industry" and fast discovering there was very little research on the topic," Maria O'Reilly told Reduced Mobility Rights. "Our 'Infrequent Flyers' study last year investigated the topic from the perspective of people with dementia, their companions, airport staff, and air crew. We found that the most challenging part of air travel for people with dementia was managing at the airport."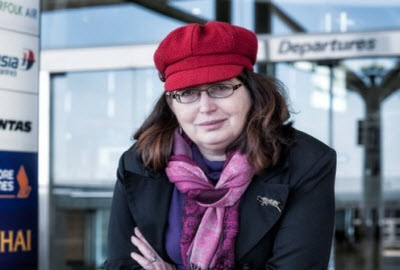 Dr. O'Reilly, who has been working on this project with Brisbane Airport Corporation, said the airport guide would be evaluated by people living with dementia and/or their families to ensure its usability. Once the two sets of resources have been developed, evaluated and refined, they will be publically launched and made widely available.
"This project is very important to Brisbane Airport because we know that travelling through an airport can be an overwhelming experience for some people, especially those with illnesses, disabilities or special needs," Leonie Vandeven, Brisbane Airport Corporation spokeswoman said. "These new guidelines will complement Brisbane Airport's existing Disability Access program and will be integrated into customer service training for airline staff and other airport workers, including retailers, security, cleaners and volunteers to name a few."
"This is very positive news from Brisbane airport and its commitment to inclusive travel," Roberto Castiglioni said. 
In January 2015, an Editor of The Queensland Times hit out at Brisbane airport's Domestic Terminal accessibility after a personal experience with its access features for the disabled.