US Authorities investigating Jet2 disability rules
Written by Roberto Castiglioni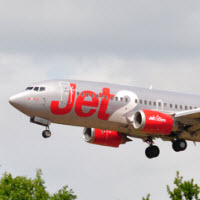 The US Department of Transportation (DOT) is investigating low cost airline Jet2 conditions of carriage for disabled passengers.
The airline is set to operate a number of flights from and to the United States. These flights fall under American disability law, the Air Carrier Access Act (ACAA) also known as 14 CFR Part 382.
Breaching the ACAA can have serious consequences for the offending carrier. In an enforcement case, the US Department of Transportation may assess civil penalties of up to US $27,500 per violation.
In November 2013 The US Department of Transportation fined Virgin America $150.000 for making safety videos non accessible to deaf passengers, and US Airways $1.2 million for failing to provide adequate wheelchair assistance to passengers with disabilities in Philadelphia and Charlotte, N.C.  
Jet2 are the only UK and EU registered carrier to impose strict weight limits on carriage of wheelchairs and scooters. As a result of this policy, owners of electric wheelchairs weighing more than 100 kilograms are not accepted for carriage on Jet2 flights.
Jet2 weight cap is half the one imposed by other airlines (Norwegian, Ryanair) using the same type of planes the UK low cost carrier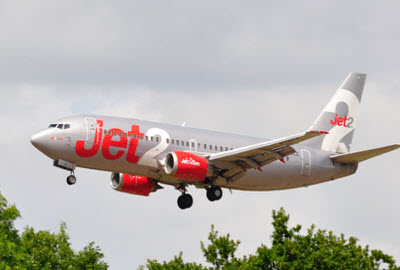 uses.
"This policy is not a violation of Part 382 if it is based on weight and balance limits of the aircraft," a DOT spokesperson said about Jet2 cap on wheelchair weight. "The carrier may be required to accept a heavier wheelchair or more than three wheelchairs, however, if it can do so without exceeding the weight and balance limits of the aircraft."
Jet2 also state on their website disabled passengers who fail to pre-book assistance may be denied boarding or may be forced to pay to re-book on a later flight.
"When a carrier is unable to provide assistance requested by a passenger and required by Part 382 for the passenger's ticketed flight and the passenger cancels his or her reservation as a result, the carrier must refund the passenger's fare at no additional charge (no cancellation fee)," the DOT spokesperson said. "At the carrier's discretion and if the passenger prefers, the carrier also may make the required assistance available to the passenger on a later flight and rebook the passenger at no additional charge (no change fees or difference in fares)."
The Department of Transportation is taking steps to ensure Jet2 comply with the Air Carrier Access Act. "DOT will contact the carrier to discuss the policies posted on its website that may not be in compliance with Part 382," a DOT spokesperson told Reduced Mobility Rights.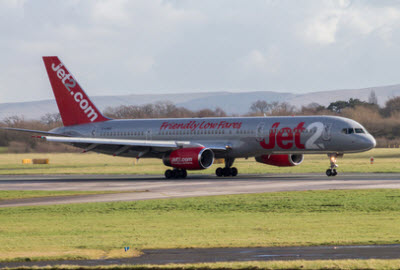 European National Enforcement Bodies (NEB) are also looking into Jet2 conditions of carriage for disabled passengers.
"European regulations are clear that passengers with reduced mobility can carry up to two mobility items free of charge and these should not be subject to weight restrictions - unless there is a clear safety reason for doing so," a spokesperson for the UK Civil Aviation Authority told Reduced Mobility Rights. "We are therefore concerned about reports of weight restrictions being applied to passengers' mobility equipment and the potential for this to restrict passengers with mobility needs' access to air travel. We are looking in to this issue in detail and as part of this, will consult with national enforcement bodies in other European countries."
Spanish authorities are also looking into Jet2 discriminatory terms and conditions. "We will carry out the necessary inquiries in order to detect possible breaches on the European Regulation and in case any non-compliance is found, a sanction procedure will be initiated," a spokesperson for the Spanish Civil Aviation Authority AESA (Agencia Estatal de Seguridad Aerea) said.
Jet2 are yet to comment on the matter.
Do you travel with your personal wheelchair? Have you recently traveled on a Jet2 flight? Share your experience on Reduced Mobility Rights Facebook page or tell us your story using the contact form.