Missing AirAsia airliner triggers fears of new aviation mystery
Written by George Sensalis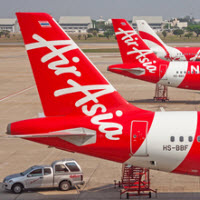 An AirAsia Airbus A320 with 162 souls on-board has gone missing at 6.17 AM (23.17 GMT) over water between Indonesia and Singapore.
"The plane contacted Jakarta Air Traffic Control at 0612, at the frequency 125.7megahertz," The Director General of Aviation of Indonesia Djoko Atmojio said at a news conference earlier. "The plane stated that it was trying to avoid cloud and directed the plane to the left of M635 route and asked to go up to altitude 38,000ft. We have not received the ELT (distress) signal so our conclusion so far is the plane lost contact at 0617."
According to the Flight Manifest released by the Indonesian Ministry of Transportation there are 155 passengers and seven crew on-board AirAsia QZ 8501. Among passengers, there are 138 adults, sixteen children and one infant. 
One hundred and fifty five people on board are from Indonesia, three from South Korea, one from France, one from the United Kingdom, one from Malaysia, and one from Singapore.
The Airbus A320-200 registration number PK-AXC took off from Juanda International Airport in Surabaya at 05.35 AM (22.35 PM GMT). Shortly after take-off cockpit crew requested permission to deviate from the scheduled flight plan due to weather. Communication with the airplane was lost while it was still under the control of the Indonesian Air Traffic Control.
AirAsia opened an Emergency Call Centre available to family or friends of on board flight QZ8501. The number is: +622129850801.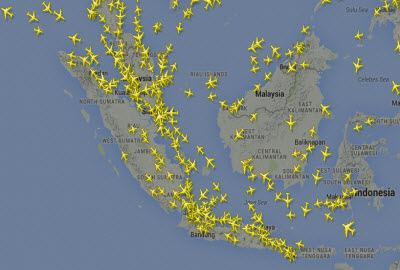 Meanwhile AirAsia CEO Tony Fernandes said to be on his way to Surabaya where most of the passengers are from.
But things look less smooth in Singapore, where a Changi Airport official said "Care officers are on hand, with blankets and drinks. There are no AirAsia officials in the holding area in Changi."
AirAsia flight QZ8501 went missing in the same airspace where MH370 went missing on March 8 2014, triggering fears of a new aviation mystery. The airspace between Indonesia and Malaysia is one of the busiest in world.
Voted "World's Best Low-Cost Airline" for six years running, AirAsia received criticism for its wheelchair fees policy. Depending on destination, customers who need wheelchair service may have to pay up to 11 GBP/17.50 USD/14 Euro per leg if they book the service at the airport check-in desk.
The Indonesian government accepted the Singapore Rescue Coordination Centre offer to help with efforts to locate the missing AirAsia airplane. The RCC is managed by the Civil Aviation Authority of Singapore and supported by various agencies, including the Republic of Singapore Air Force and the Republic of Singapore Navy.