Jetstar Cannot Break Law Discrimination Commissioner Says
Australia Disability discrimination commissioner Graeme Innes singled out budget airline Jetstar for discriminating against disabled passengers.
"It's all very well to have a low-service business model but you can't have a low-service business model that breaks the law," Mr Innes said.
Mr Innes remarks were made following a complaint filed by Australian musician Jim Conway. Multiple Sclerosis sufferer Conway was unable to board a Jetstar flight since the airline could not provide for his safe transfer from the wheelchair to his seat. Jetstar staff told him he could not expect the same level of assistance legacy carriers provide from a budget airline.
"I've been in a wheelchair for 20 years, I've done about 20 flights a year and I've never been in a situation where I couldn't board an aircraft before because of my disability," he said. 
Unlike its parent company Qantas, Jetstar does not use the Eagle Hoist. Reduced Mobility Rights recently published a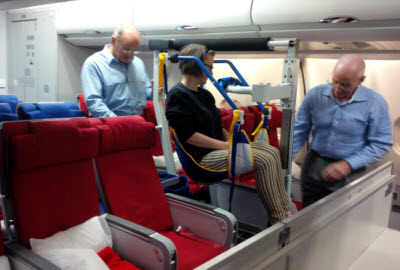 report on the Eagle.
Jetstar denies discriminating against Mr Conway, stating that "the company's transfer method , slide board, is appropriate and reasonable."
The budget airline is not new to controversy over its disability policies. In 2009, Paralympic champion Kurt Fearnley was forced to check in his wheelchair as checked luggage. Out of protest, the man dragged himself through the terminal and onto the aircraft. 
In 2012, Qantas owned Jetstar was awarded victory in a discrimination lawsuit brought by Mrs Sheila King against the budget airline. Mrs King, who has severe reduced mobility, was not allowed on board the aircraft because she was the third disabled traveller travelling with her own wheelchair showing up at check in for that flight. Mrs Sheila King was ordered to pay Jetstar's legal costs, capped at AUD 20,000 (GBP 13,500/ USD 20,700).
Jetstar cap on the number of wheelchair passengers per flight is illegal in the United States, Canada and European countries.