Eagle 2 Hoist Improves Disabled Passenger Experience
Written by Roberto Castiglioni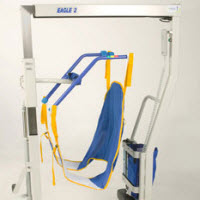 Enplaning and deplaning the aircraft, usually translating into poor passenger experience for people with reduced mobility, can be greatly improved with Eagle 2 hoist.
Being manhandled can be a dreadful experience, as a veteran frequent flyer recently explained. "I love flying, and the thrill of seeing new places, but the process is a means to an end, not a pleasure," Martyn Sibley told our readers in a recent interview. 
Martyn's mobility is severely reduced by his condition, Spinal Muscular Atrophy. "At the gate I use a transit seat to be lifted by two people, and to not be manhandled as much. The worst situations on landing are communicating my needs in a foreign language, which makes me feel scared of being dropped."
In the summer of 2013, Norway passed legislation banning physical carriage of passengers with reduced mobility on board the aircraft.
The country's new facilitation law makes it compulsory for airport operators to use ramps, high loaders and mechanical hoists to help passengers with mobility limitations board and deplane.
On 11 April, William Hay and John McGuinness of HayComp made a live presentation of the Eagle 2 Hoist inside a training rig at Virgin Atlantic Airways headquarters in Crawley.
Volunteers were helped move from their wheelchairs to the aircraft seat and vice versa. Reduced Mobility Rights caught the seamless process on camera.
Designed to fit single and double aisle aircraft, Eagle 2 is a medical grade hoist most passengers with severe mobility limitations may already be familiar with. 
Two assistants are required to operate the Eagle, of which one must be fully trained in the hoist transfer process. 
One Eagle fits all. Eagle 2 can accommodate slings for Small, Medium, Large and Extra Large people, with Medium and Large size being the most commonly used. The Eagles have been tested to a Safe Working Load (SWL) of 200 Kg.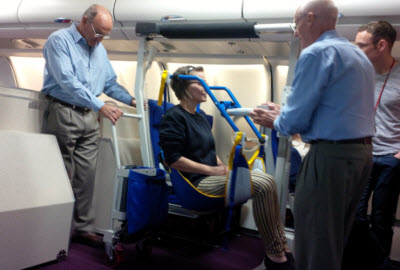 When the passenger is hoisted from the wheelchair inside the aircraft, the total transfer process takes approximately five minutes. Where the wheelchair lift is made outside of the aircraft, in an air bridge or an ambulift, the time Eagle 2 spends in the aircraft cabin is significantly less.
Up to 60 consecutive lift cycles can be made with a fully charged battery. However, Haycomp management strongly advise that the battery be put on charge when the hoist is not being used.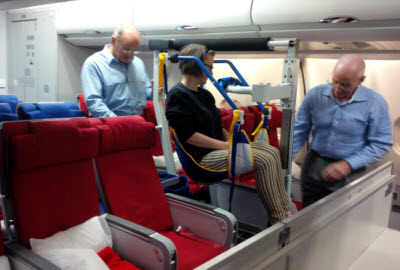 Eagle 2 not only improves and dignifies the passenger experience of people with disabilities; the medical grade hoist ensures full compliance to Health and Safety regulatory requirements for staff and members of the public and delivers greater efficiency, thus freeing up human resources and ensuring faster turnaround times.
The Haycomp product is available at selected airports across the world. In the United Kingdom, Eagle 2 is available at London Heathrow airport.