British Airways Improve Disabled Passenger Assistance
Written by George Sensalis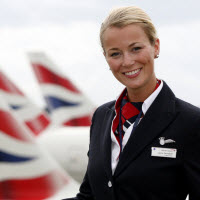 Traveling with a disability or requesting wheelchair assistance has never been easier, British Airways say after improving disabled passenger assistance features on ba.com.
The UK Flag carrier promises smoother journeys thanks to new enhancements to British Airways' website, ba.com. The improvements follow feedback from customers who require special assistance, in particular regular flyers, who told the airline they did not wish to keep detailing their needs every time they make a booking.  Enhanced features enable customers to enter and find out more information about the service they require when using the 'manage my booking' tool.
Previously, customers had to book most types of special assistance by making a phone call to the airline's contact centres. Thanks to the new features, passengers booking online can now select from mobility and wheelchair assistance; assistance for those who are visually impaired or hard of hearing; or assistance for those with learning disabilities. A full breakdown of the assistance these customers can expect is also provided on the website. 
Furthermore, British Airways customers now have the option of saving their special assistance preferences, making the booking process even easier the next time they make a booking.  Updates can be made to the saved preferences at any time if the situation changes.
"Previously, customers requiring assistance had to re-enter their details every time they booked," Rob Thorne, British Airways' customer data manager, said. "We've now developed the technology to store this information in a profile so that it's available automatically.  Each time a customer rebook all they have to do is to confirm that they want us to use those details for that booking."
"This is a very positive change," Roberto Castiglioni, Reduced Mobility Rights director, said. "It is embarrassing, borderline humiliating having to explain one's needs at every booking. Creating a passenger profile eliminates this unwanted experience at the booking stage."
British Airways provide special assistance to more than 400,000 customers with reduced mobility or disability per year,
30,000 of whom are frequent flyers.  "We are working closely with customers who require assistance to review their experiences and ensure that we provide appropriate help and guidance throughout the whole journey - from the point of booking to the final arrival," Caroline Brooman from British Airways' customer experience team, said.
According to disability discrimination complaints data from the US Department of Transportation related to the first nine months of 2013 BA appears in the five top offenders among non US airlines.  Air Canada tops the list with 13 complaints, British Airways follows with 12, Air France with 9, Emirates Airlines with 6, and Lufthansa with 5 disability related complaints.
The UK CAA report on the number of complaints received in the year to the end of September 2013 by entity, by type, and number of passengers by airline places British Airways in fifth place with 42.6 complaints per million passengers, behind Aer Lingus (33.5), Swiss AirLines (36.7), easyjet (36.8) and Ryanair (38.5).