IndiGo Airline Apologise Profusely To Disabled Woman
Written by Roberto Castiglioni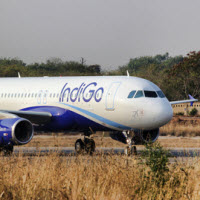 India's budget airline IndiGo apologise profusely after discriminating against a disabled woman at Kochi airport.
On 7 December, wheelchair user Mrs Chib arrived at the Kochi airport IndiGo check-in counter.  "Our ground staff manager asked Ms Chib to fill the indemnity bond, which is not as per our policies and procedures," an IndiGo airline spokesperson told Reduced Mobility Rights on Friday. "We made a mistake and we are very sorry for this. We have spoken with the customer and regretted the inconvenience caused to Ms Chib, in the hope she will see this experience as an aberration and not the rule at IndiGo. One of our colleagues made a mistake and we apologise profusely."
Reduced Mobility Rights has taken a closer look at IndiGo policy of carriage of passengers with disabilities.
Article 6.1 of India's air travel Equality Regulation, Section 3, Series M, Part 1, mandates "airlines shall ensure that at all stations, for boarding / disembarking purposes, before departure, during intermediate stops and on arrival wheel chairs are available without any extra charge."
However, IndiGo applies charges for the use of wheelchairs in Bangkok, Dubai, Kathmandu, Muscat, and Singapore. Charges vary, and can be as much as US$44 in Dubai, and US$77 in Muscat.
"IndiGo does not charge its passengers any fee for wheel chairs," the IndiGo spokesperson explained. "Any cost to the
passenger at Airports like Kathmandu and Dubai is due to ground handling charges by the Airport ground handling agents."
Earlier this year, Reduced Mobility Rights discovered India's legacy carrier Jet Airways discriminated against disabled passenger by charging for providing wheelchair service at selected airports outside India. 
Reduced Mobility Rights reported its findings to India's Directorate General of Civil Aviation. Jet Airways has discontinued charging wheelchair users since. 
On its website IndiGo tells domestic passengers they can be carried on stretchers; however, on the International special assistance page, the airline informs that "currently IndiGo does not have provisions for accommodating stretchers."
Article 4.7 of India's air travel Equality Regulation mandates "no airline shall refuse to carry persons traveling in a stretcher or incubator when they are accompanied by an escort…"
"There is a provision to carry stretchers on board the Aircraft and this is clearly mentioned on our website," the IndiGo spokesperson said. "Every passenger has his or her own requirements to make their journey not just accessible but hassle free as well - the passenger being disabled or not. We train our people to be sensitive and make every effort to be compliant to the regulations and the laws of the land."
IndiGo airline maintains a rule according to which a maximum of four passengers with reduced mobility can be carried per flight. 
European ultra-low-cost Ryanair got rid of the limit earlier this year leaving only a handful of disreputable air carriers around the world apply this unjustified restriction. United States Civil Aviation rules, perhaps the toughest worldwide on safety standards, banned the limit over 20 years ago.
Reduced Mobility Rights notified IndiGo of its findings, and has given the airline seven business days to waive wheelchair charges throughout its network of foreign airports, remove the ban of stretchers on its International routes, and asked IndiGo reconsider the collar on wheelchair users per flight.
"We will monitor Indigo's compliance with India's Civil Aviation Requirements, and refer the airline to the Directorate General of Civil Aviation of the Government of India should we think the airline is not complying with India's air travel Equality Regulation," Reduced Mobility Rights management said.
Fastest growing low cost carrier in the world, IndiGo airline is the largest airline in India operating a fleet of 72 Airbus A320 aircraft to 35 domestic and International destinations. IndiGo is the only airline in the world regularly operating a boarding ramp allowing wheel chairs and stretchers to be taken right into the aircraft effortlessly.