Jet Airways Takes Discrimination Against Disabled Passengers To A Whole New Level
Written by Roberto Castiglioni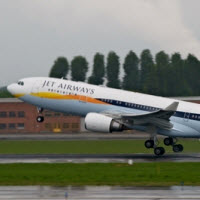 Not new to controversy, India's second largest airline Jet Airways is facing allegations of discriminating against passengers with disabilities.
Founded in 1993 by Indian billionaire businessman Naresh Goyal, Jet Airways operates a fleet of 100 aircraft to domestic and international destination.
Controversy and Jet Airways seem to be inseparable. One of the airline's security agents at London Heathrow airport, Asmin Tariq, was arrested after being found implicated in the foiled terror plot of 10 August 2006 transatlantic airliners in mid-air. 
American authorities delayed Jet Airways clearance to fly to the U.S. for over two years due to concerns, one of which focusing on the airline's ownership structure and alleged links to organised crime in India.
In February 2012 the airline was hit by a serious disability discrimination complaint. Miss Anjlee Agarwal, who suffers from muscular dystrophy, complained of discriminatory harassment at the hands of Jet Airways personnel. The disabled passenger was first forced to sign a waiver of liability. On a second leg of her flight she was manhandled by untrained personnel despite an aisle chair being available.
On 15 July, while routinely reviewing airlines procedures for passengers with disabilities, Reduced Mobility Rights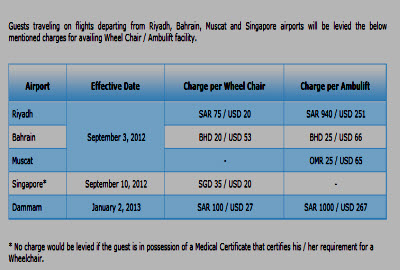 uncovered something out of the ordinary with JetAirways services for passengers with reduced mobility.

 

The airline charges passengers with disabilities flying from some Middle Eastern airports up to 53 US Dollars to provide wheelchair services. Charges can be as high as 267 US Dollars for passengers with severe reduced mobility who need an ambulift to board the aircraft. 

 

Jet Airways charges passengers with disabilities departing from the following airports: Dubai, Abu Dhabi, and Sharjah airport in the United Arab Emirates; Riyadh and Jeddah airport in Saudi Arabia; Muscat airport in the Sultanate of Oman; Bahrain international airport.  

 

"The wheelchair assistance charge introduced applies only for departures from some Gulf destinations (SHJ/AUH/DXB/RUH/JED/MCT/BAH)", a Jet Airways spokesperson said "Before introducing this policy, Jet Airways conducted research and benchmarked the charge against other carriers. The charge for wheelchair assistance covers the cost Jet incurs from its ground handlers. Jet Airways' policy is in line with other carriers operating in the respective regions. The policy does not apply for wheelchair passengers arriving or leaving India, Newark, London Heathrow or Brussels, where passengers are not charged."

 

In compliance with anti-discrimination legislation wheelchair assistance is free of charge at European, Indian

and US airports, including those mentioned by Jet Airways.

 

Reduced Mobility Rights conducted its own research with other airlines departing from Bahrain International airport, where Jet Airways wheelchair charges are the highest ($53).

 

"Wheelchair assistance at the airport is complimentary for Gulf Air customers," Bahrain's national carrier customer service told us. "We provide complimentary wheelchair service for all British Airways customers," a spokesperson for the largest British Legacy carrier said.

 

"In order not to violate the civil rights of passengers with disabilities, for a barrier free environment, no charges will be levied for the use of wheelchairs at all airports for passengers travelling on Air India in any class," is the statement of Jet Airways direct competitor, Air India.

 
Our findings contradict Jet Airways statement according to which the airline's policy is in line with other carriers operating in the respective regions.
Quite clearly Jet Airways is ripping off people with reduced mobility by imposing hefty charges on services they cannot do without because of their disability.
Reduced Mobility Rights is submitting its findings to India's General Directorate of Civil Aviation, hoping authorities will step up and order Jet Airways immediately cease discriminating against passengers with disabilities flying from the above airports.   
About the author
Founder and Editor-in-Chief of Reduced Mobility Rights, Roberto Castiglioni is an expert of airport accessibility, management and support procedures of passengers with special needs and air travel related regulations. He has been a frequent flyer for the past three decades and has several years of experience as travelling partner of a passenger who requires assistance.
Roberto provides accessibility and access consulting services to airports and airlines. He is a member of the UK Civil Aviation Authority Access To Air Travel Working Group. He is also a member of the Easyjet Special Assistance Advisory Group. Esaag provides Easyjet with strategic guidance and practical advice on the evolving needs of passengers requiring special assistance.