Boeing 777X Best Accessible Aircraft Debuts At 2013 Dubai Airshow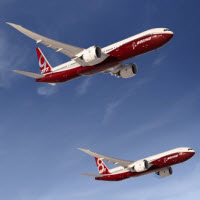 Etihad Airways is the first airline to order the 777X and will be a launch customer of the airplane, one of the best accessible aircraft in production today.
The 777-8X is expected to enter service around the end of the decade. The 777-8X, will be the most flexible jet in the world. The airplane will seat 350 passengers and offer an incredible range capability of more than 9,300 nautical miles (17,220 km). In addition, the airplane will have unmatched takeoff and payload capability compared to the competition.
Representing the largest product launch in commercial jetliner history by dollar value, 777X orders and commitments include Lufthansa with 34 airplanes; Etihad Airways with 25; Qatar Airways with 50 and Emirates with 150 airplanes. The combined value of the agreements is more than $95 billion at list prices.
Earlier this year Reduced Mobility Rights conducted the first ever in-flight accessiblity assessment of a 777 aircraft, Air New Zealand's 777-300ER. Among its features for passengers with disabilities, Air New Zealands 777-300ER aircraft are fitted with a large accessible lavatory between the Economy and Premium Economy cabins. Click here to read the full Air New Zealand 777 300 n flight accessibility report.
Air New Zealand's Boeing 777-300ERs also feature a unique, innovative seat experience in the Economy, Premium Economy and Business Premier classes. For example, "Skycouch" seating, known as CuddleClass, is available in the first 10 rows of Economy Class and will allow passengers who book three-wide seat space to raise the footrests with the touch of a button to create a lie-flat space similar to a sofa at home.  
The 777-300ER is 19 percent lighter than its closest competitor, greatly reducing its fuel requirement. It produces 22 percent less carbon dioxide per seat and costs 20 percent less to operate per seat. The airplane has a maximum range of 7,930 nautical miles (14,685 km). 
The 777 family is the world's most successful twin-engine, twin-aisle airplane. Sixty-one airlines around the world have ordered more than 1,100 777s.
"The 777X is the largest and most-efficient twin-engine jetliner in the world," said Boeing Commercial Airplanes President and CEO Ray Conner. "Its ground-breaking engine technologies and all-new composite wing will deliver unsurpassed value and growth potential to our customers."