Accessible Travel: Air New Zealand 777 300 In Flight Accessibility Report
Written by Roberto Castiglioni
Accessible travel is a fast growing sector in the aviation industry; Air New Zealand opened its doors for an exclusive in-flight accessibility assessment.
New Zealand's flag carrier Air New Zealand operates the long haul service from London Heathrow airport to Auckland International airport via Los Angeles, California. The airline uses a modern Boeing 777-300ER (extended range) on this route. With a total travel time of 28 and half hour, including a stopover in Los Angeles of 2 hours, flight NZ1 is one of the longest routes in the world.
On 14 March 2013, Air New Zealand opened its doors to Reduced Mobility Rights for an in-flight accessibility assessment on the London Heathrow airport – Los Angeles International airport portion of flight NZ1.
The Air New Zealand 777-300 aircraft has a three class configuration; Business Premier, Premium Economy and Economy. The main economy cabin also features the unique Skycouch configuration. Selected Economy seats convert into a flat 76 cm wide and 140 cm long space. Skycouch is also known as "cuddle class" as it provides couples enough space to curl up together.
We take our place in the rear of the main cabin, the best position to watch cabin crew interact with passengers on this 11
hours flight from Heathrow to Los Angeles.
Mark, today's deputy cabin service manager, answers our questions and shows us accessible features of the aircraft throughout the duration of the flight.
Passengers with disabilities who are able to physically assist in their own evacuation of the aircraft in the unlikely event of an emergency and who do not require assistance with eating, administering medication or toileting during the flight can fly without a travel companion on Air New Zealand.
All Air New Zealand cabin crew has PRM support training as well as first aid training, Mark explains. Support training includes specific techniques to help passengers move from their seat into the on board wheelchair and vice versa. Techniques vary depending on the seat allocation within the aircraft and the specific needs of the customer, based on the seat configuration in the three cabins.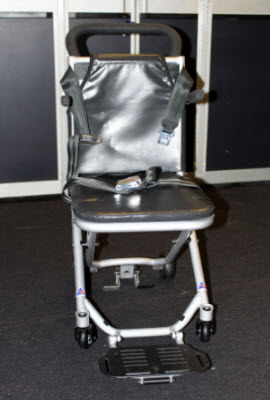 Passengers with severely reduced mobility, WCHC, are usually seated close to the toilets to allow easier access in case of need. However, thanks to the available on-board wheelchair, passengers with reduced mobility can seat anywhere they choose. Those who are physically unable to assist with their own evacuation in the event of an emergency however will need to travel with someone whom can perform their duty as a safety assistant.
Cabin crew welcome disabled passengers upon embarkation, asking which type of assistance they may require in flight. This is a standard procedure that allows cabin crew to best look after the needs of vulnerable passengers.
Irrespectively if traveling alone or with a companion, cabin crew check regularly on passengers with disabilities throughout the duration of the flight, Mark explains.
Elderly passengers traveling from the UK to New Zealand or vice versa are also regularly checked upon throughout the duration of the flight. It is not uncommon for elderly passengers to want to fly directly from London Heathrow to Auckland and return without a stopover in Los Angeles. Due to the length of the flight, passengers appreciate receiving an extra attention, or simply a quick chat to make sure their needs are met at all times, Mark explains. Cabin crew changes during the quick layover in Los Angeles. However, all relevant information concerning the needs of vulnerable passengers is logged to ensure the next crew is up to speed.
In addition to the usual standard aircraft toilets, Air New Zealands 777-300ER aircraft are fitted with a large accessible
toilet between the Economy and Premium Economy cabins. 

 

Air New Zealand also complies fully with US legislation on the carriage of service dogs on its flights to and from the United States.

 

In preparation for landing, cabin crew approaches all vulnerable and disabled passengers to remind them of the services waiting at the destination. This is an important exercise, as it is not unusual for passengers flying long haul to become disoriented upon arrival.

 

DVT, Deep Venous Thrombosis, a blood clot forming in a vein inside a part of the body, is no longer the concern on long haul flights that it used to be due to greater awareness. Improved seat comfort, combined with sensible precautions such as drinking plenty of water, avoiding alcohol and caffeinated drinks, wearing compression stockings etc, and frequent in flight exercises reduced the incidence of this problem to a handful of cases mainly concerning passengers with pre-existing conditions.

 

After spending nearly two hours with Mark we returned to our seat to observe how cabin crew

interacts with passengers. Needless to say, we witnessed caring, professional checks on the handful of passengers with reduced mobility on board NZ1.

 

Prior to landing in Los Angeles we quickly meet with Paul, the flight's cabin services manager. Paul stressed the importance of airport services to timely meet the requirements of disabled passengers, especially after a long haul flight.

 

In this first ever in-flight accessibility assessment Air New Zealand met and exceeded our accessibility and access services criteria, making the airline Reduced Mobility Rights' recommended Carrier of Choice for Quality Accessible Travel Services on the route London Heathrow – Los Angeles –Auckland.

 

 

About the author

 

Founder and Editor-in-Chief of Reduced Mobility Rights, Roberto Castiglioni is an expert consultant of PRM regulations and disabled passengers support procedures, and has personal experience as travelling partner and carer of a passenger with reduced mobility.

 

Roberto is a member of the Disability Working Group of the Civil Aviation Authority. He is also a member of the Easyjet Special Assistance Advisory Group. Chaired by David Blunkett MP, the independent advisory group esaag provides Easyjet with strategic guidance and practical advice on the evolving needs of passengers requiring special assistance.