CPH and Falck sign new disability services agreement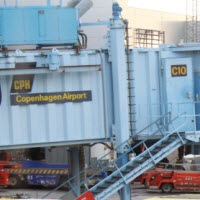 Copenhagen Airport and Falck have entered into a three-year agreement for Falck to continue providing PRM services. 
The new agreement will ensure even better services for the 100,000 passengers a year requiring special assistance. 
In 2008, the EU transferred the responsibility for passengers with reduced mobility (PRMs) from airlines to airports with the aim of creating uniform standards. At Copenhagen Airport, this has meant that PRMs have since been ensured a high level of service from the time they arrive at the airport until they are sitting securely in their flight seat. 
Since the arrangement took effect, Falck has been in charge of servicing PRMs at Copenhagen Airport, and now an agreement has been concluded for the coming three years.
"We put the arrangement out to tender, and Falck submitted the best offer overall. This outcome is a very positive one for us as well as for the airlines and the passengers, because in the past five years the service level has been high, and with the new agreement it will be even higher. For example, Falck will upgrade its offering of assistance equipment, and at a more competitive price", explained Kristian Durhuus, COO of Copenhagen Airport. 
Three-year agreement
The agreement runs for a period of three years with an option to extend for a further two years, and Falck is looking
forward to continue providing PRM services.
"We are proud to have successfully provided Copenhagen Airport with this important service over the past five years and we look forward to continue assisting disabled passengers through the airport. This work ties in well with the services we offer to the general public when people need assistance to get safely to their doctor or the hospital", said Allan Søgaard Larsen, CEO of Falck.
Disability organisations satisfied
The disability organisations are also pleased with the fact that Falck will continue providing assistance to the airport's 100,000 or so PRMs a year, a number which has been growing in recent years.
"We are pleased that Copenhagen Airport will not be changing its provider of assistance to PRMs, or disabled passengers. It is important that assistance is provided by highly qualified staff, and this is best achieved through experience combined with the necessary training," explained Stig Langvad, chairman of the Disabled People's Organisations Denmark.
According to Stig Langvad, PRMs are completely dependent on the support provided by Falck, because neither the airport nor aircraft are designed for disabled passengers to navigate them unassisted. 
"In the past few years, Falck has collaborated with the airport and representatives of the disability organisations to develop assistance services to an increasingly high standard, to the great satisfaction of the many thousands of PRMs. A good start and finish to the journey is essential", said Stig Langvad.
Reduced Mobility Rights audited Copenhagen airport accessibility and assistance services on 6 February 2013, finding the airport provides excellent access services to passengers with disabilities.