Copenhagen Airport Home of Excellent Access Services
Written by Roberto Castiglioni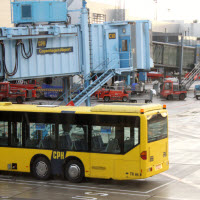 Featuring remarkably good accessibility and excellent support for disabled passengers, Copenhagen airport provided access services to 93,000 PRMs in 2012.
Reduced Mobility Rights assessment tour of terminal accessibility and access services for disabled passengers in airports across the European Union paid a visit to Copenhagen airport on 6 February.
Serving over 23 million passengers in 2012, Copenhagen International (CPH) is Denmark's main airport. Like most airports across the European Union, CPH contracted a specialized access provider to cater to PRMs (Passengers with Reduced Mobility) and other disabled passengers. ISO 9001 certified Falck Denmark A/S is CPH access services provider.
We meet airport management shortly after arriving at Copenhagen from London Gatwick. As we make our way out of customs, we meet Mrs Marie Louise Lots, head of Passenger Services at CPH, Mrs Hanne Frederiksen, CPH PRM manager, Mr Birger Anders Post, Falck CPH station manager, and Mrs Malene Thiele, CPH Media Relations.
The visit begins with an assessment of accessibility and services at the check-in and arrival halls. Wheelchair accessible buses
and taxis are readily available to disabled passengers arriving or leaving the airport terminal. Calling totems are scattered in key sites around the terminal. Blind passengers arriving to the airport by train may call or text Falck prior to arrival to arrange pick up at the point of arrival at the train station. Passengers traveling with a carer can make use of the airport's wheelchairs available at calling points and other locations throughout the terminal.
Once completed check-in, disabled passengers are assisted making their way through security checkpoints. There are no dedicated checkpoints for disabled passengers at Copenhagen airport. However, disabled passengers' security screening is prioritized where possible.
Past security checkpoint we come across Copenhagen's signature feature, the allergy alley. Passengers with intolerance to scents or severe nuts allergy can avoid the duty free shopping area by following the allergy alley running to the left of the duty free entrance.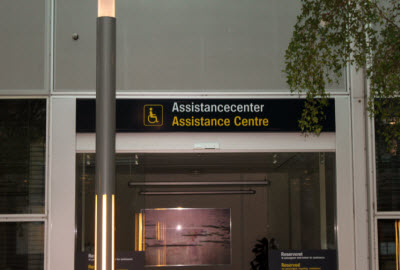 Once completed security checks, disabled passengers may request to be taken to the gate, or one of the many restaurants, or to the assistance centre, strategically located in the Transfer hall.

 

The centre features an accessible toilet and shower room, a rest area with a plank bed, and comfortable accommodation.

 

Falck control and dispatch area is adjacent to the assistance centre.

 

The quick lunch break presents the opportunity to learn more about access services at Copenhagen airport. Benefiting from 70% pre-notified assistance requests, CPH is able to deliver excellent PRM assistance within quality standards. The well above average pre-notification mark is achieved thanks to Falck's ability to handle domestic pre-notification requests up to one hour prior to arrival at the airport terminal.

 

Passengers' pre-notification of assistance request is a crucial element in delivering a positive experience when using access services. Reduced Mobility Rights always reminds disabled passengers to request assistance at the time of booking, or at least 48 hours prior to the flight.

 

The human factor and personnel training are other key elements of access services. The vast

majority of Falck agents at CPH come from the health care sector. All agents undergo rigorous training and mandatory refreshment courses spanning from transport of incapacitated persons, interaction with disabled passengers, first aid, health and safety, to the use of defibrillators.

 

Few days before Christmas 2012 an able body foreign national went into cardiac arrest at CPH. Within seconds, a Falck agent was able to restart the man's heart making use of one of the many defibrillators available throughout the terminals.

 

Copenhagen airport operates in strict compliance of EU regulations and guidelines. Often disregarded by most continental airports, the monitoring of quality standards allows Falck and CPH management to have a clear picture of PRM services at all times. Data of 2012 shows assistance problems to be well below the lowest physiological mark. The vast majority of recorded issues concern non pre-booked assistance and breakdowns in transmission of information from airlines.

 

Most airlines docking at Copenhagen International make use of gates, and passengers with reduced mobility are comfortably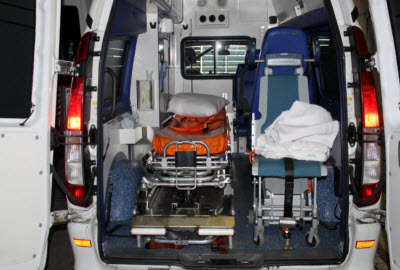 taken directly to the aircraft door without leaving the terminal building. However, CPH PRM assistance is ready to handle all needs. Passengers with disabilities non impairing their mobility are taken to and from remote stands with specific minibuses. An ambulift is available to assist passengers with severely restricted mobility on and off airplanes. A specially equipped vehicle is also available to attend to immobile passengers.
We return inside the terminal building from our visit of special assistance vehicles on the apron, the airport area where aircraft are serviced, and boarded. Access to this area is restricted, and distinctive jackets must be worn at all times.
As we ask Birger and Hanne the last questions, a passenger in distress approaches us. Birger immediately recognizes the symptoms of an impending heart attack. Within seconds, the passenger is helped inside the assistance centre, where first aid is provided. This totally unexpected event allows us to verify in person that support at Copenhagen International airport is excellent thanks to the professionalism and compassionate dedication of the airport's access services to assisting others.
About the author
Founder and Editor-in-Chief of Reduced Mobility Rights, Roberto Castiglioni is an expert of PRM regulations and handling procedures, and has personal experience as travelling partner and carer of a passenger with reduced mobility.
Roberto is a member of the Disability Working Group of the Civil Aviation Authority. He is also a member of the Easyjet Special Assistance Advisory Group. Chaired by David Blunkett MP, the independent advisory group esaag provides Easyjet with strategic guidance and practical advice on the evolving needs of passengers requiring special assistance.