TV Star Sophie Morgan Blasts Easyjet For Travel Agent Blunder
Written by Roberto Castiglioni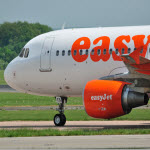 On Tuesday, disabled TV presenter Sophie Morgan launched a serious allegation against Easyjet, accusing the airline of discrimination against the disabled.
Ms Morgan, who frequently travels by air, asked her travel agent to book a flight to Glasgow for Thursday.
"Unfortunately easyJet was provided with the incorrect information from Sophie's travel agent," a spokesperson for easyjet said.
The agent told the airline Ms Morgan was unable to move about the cabin unaided. At this point, the airline, in compliance with European safety laws, told the travel agent Ms Morgan could have travelled only if in the company of a travel companion.
Outraged, Ms Morgan started blasting the airline via Twitter. "Please can you retweet: @easyjet won't let me fly as I am disabled and unable to get to an exit or climb stairs. It's discrimination."
On Wednesday, Sophie Morgan tweeted the following. "The issue is a lot bigger than just @easyJet all Airlines need to improve services. 90% of disabled ppl don't feel safe flying.#c4news"
Despite her frequent flyer status, Ms Morgan chose to tweet her anger instead of calling the airline directly to try to understand the reasons behind easyjet decision. A single phone call could have solved the issue. "Based on what her travel agent told us, we believed she was unable to travel with us unaccompanied. Since speaking with Sophie we would be happy to welcome her on board a flight in the future," the spokesperson for easyjet explained.
Contrary to what a cynical approach to the incident could lead to determine, I want to believe Sophie Morgan's response is the by-product of genuine frustration rather than the calculated manipulation of facts.
I can understand Sophie's outrage because I am the father of a disabled child, and a frequent flyer. I know terribly well what goes through my mind when he is humiliated or discriminated when flying. I am not talking about being denied flying at the booking stage, but rather being denied pre-booked assistance upon arriving at airports, as it happened in 6 consecutive occasions at London Heathrow airport.
However, now that the facts are on the table, we can examine the incident to see what lessons can be learned.
Probably Sophie Morgan and her friends at Channel4 News are unaware it was Reduced Mobility Rights to report easyjet's strict guidelines for disabled passengers to the Civil Aviation Authority one year ago. A lot has changed since, starting with the airline changing its rules for the carriage of disabled passengers.
Thanks to these changes, passengers like Sophie Morgan can travel unaccompanied on any easyjet flight across the airline's network. In fact, The Directorate General for Mobility and Transport at the European Commission praised the airline for these changes.
Readers of this site know that miscommunication is one of usual suspects in disabled passengers' complaints. This incident is no different.
A sloppy, poorly trained travel agent, provided the airline incorrect information about Ms Morgan's condition, leading Easyjet to make the wrong call.
EU law says that PRM training is required across the board, including travel agents and tour operators. In this particular incident, my advice to Ms Morgan is to convey her justified outrage in the right direction, and demand to verify if her travel agent runs mandatory PRM training of its employees.
No one better than the traveller knows his/her condition. What we have learned from this incident is that, even when we delegate the booking process to a tour operator or travel agent it is always wise to make a follow up call with the airline care team.
Finally, my advice to Sophie Morgan is to direct her attention to the core of the issue. She is spot on when she says the airline industry has a long way to go to ensure inclusion; However, she is misguided if she thinks making a fuzz will change anything.
To establish a radical change of the airline industry's attitude towards disabled passenger, we must first make sure the UK Government, specifically the Secretary for Transport Patrick McLoughlin MP, stops burying his head in the sand, and undertakes the actions all other EU Countries took more than 4 years ago.
The Civil Aviation Authority does not have enough instruments to enforce the law that protects the rights of disabled people traveling by air. According to legal advisors, it should take less than six weeks for the Department for Transport to adopt civil sanctions, and transfer enforcement powers to civil procedure.
A toothless enforcer can only rely on self-compliance. If Sophie Morgan wants real change, she is more than welcome to join the action of those who honestly want to make a difference for disabled passengers.