KLM Forgets Disabled Woman At Schiphol Airport
Written by Roberto Castiglioni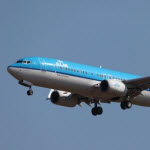 A disabled woman traveling from Geneva To Glasgow via Amsterdam was forgotten at Schiphol Airport by KLM agents.
28-year-old Christine W. was on flight KL1928 from Geneva to Amsterdam, then connecting to Glasgow on KL1477 on 5th April 2012. 
Christine has a developmental delay; her mother booked assistance until the gate and during transfer for all flights with KLM Cares a fortnight before her travel time. When requesting assistance, Christine's mother told KLM "though she can walk, she needs meet and assistance due to a medical disability."
The disabled woman got off KLM 1928 in Schiphol escorted by an unidentified KLM agent, was asked to sit in a waiting area and told someone else would come back to accompany her to the connecting flight to Glasgow.
Instead, Christine was left without any assistance for over six hours and ended up missing her connecting flight. Unaware of what was going on, the young woman quietly sat waiting for support as she was told by the KLM employee.
"Christine was taken from her flight from Geneva by a KLM agent and asked to sit in a room," Rose, Christine's mother, said. "Christine was told someone else would come back for her to accompany her to board her flight to Glasgow." 
"Our agent was sent to the gate of flight KL1928, "The Manager Planning & Dispatch of Axxicom Airport Caddy at Schiphol airport explained. "However, [the agent] did not meet Ms W. nor was she alerted on her presence and needs by the KLM flight crew." 
Concerned family members waiting for Christine in Glasgow approached the local KLM desk to learn more, and were told the young woman had missed her flight out of Geneva.
Meanwhile, Christine's mother reached her over the phone and learned the vulnerable woman had been abandoned waiting on assistance for several hours in Schiphol airport.
It was only after multiple phone calls that Christine was taken into the care of Schiphol assistance provider Axxicom. Thanks to her family's involvement Christine managed to catch the last flight to Glasgow, where she arrived after spending more than 9 hours at Schiphol airport.
"Axxicom met Christine again at around 7 pm when a KLM representative introduced her at our assistance desk," Axxicom management said. "This time however, she was presented not as WCHR, code for passengers with reduced mobility, but as a mentally challenged person, for which the specific code is DPNA."
In May 2008 IATA introduced a new code, "DPNA", (disabled passenger with intellectual or developmental disability needing assistance). Disabilities covered by this code are Alzheimer, Downs Syndrome, Autism, Dementia, Learning Difficulties (other) and Cognitive Impairment. 
"I have received explanations and excuses from Axxicom and KLM, with no company taking any responsibility for the incident," Christine's mother said. "Despite her mental problem, Christine works and travels almost every month even with low cost airlines such as Easy Jet but nothing has ever happened or seen arrogance we have met this time flying KLM."
"KLM denies liability and responds that it was Axxicom's responsibility, while Axxicom says that it is KLM's responsibility," the angry mother added.
Axxicom Airport Caddy accepted Reduced Mobility Rights call to reopen the investigation into the incident.
KLM declined to comment. The Airline has serious questions to answer, first of which how could a KLM agent take a vulnerable person off the flight and just abandon her, causing the girl to miss her connecting flight and spend 9 hours alone at Schiphol airport.
Update:  KLM apologises unreservedly to Ms Wanjiku
About the author
Founder and Editor-in-Chief of Reduced Mobility Rights, Roberto Castiglioni has extensive knowledge of PRM regulations and handling procedures, along with first-hand experience as a travelling companion and carer of a passenger with reduced mobility.
Roberto is a member of ESAAG. Chaired by the Hon. David Blunkett MP, the Easyjet Special Assistance Advisory Group, ESAAG, provides Easyjet with strategic guidance and practical advice on the evolving needs of passengers requiring special assistance. Easyjet is the largest airline in the United Kingdom by number of passengers carried.