KLM Apologises To Disabled Woman Forgotten at Schiphol
Written by Roberto Castiglioni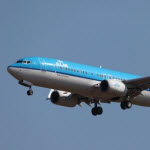 KLM has issued an unprecedented apology to the disabled woman airline agents forgot at Schiphol airport in April 2012.
On 5th April 2012, 28-year-old Christine Wanjiku was traveling from Geneva to Glasgow via Amsterdam. Christine, who suffers from developmental delay, is a veteran frequent flier. Her mother Rose had contacted KLM to request full assistance for Christine a fortnight before the flight.
Upon landing at Schiphol airport, Christine was helped off the plane by a KLM agent who directed the young woman to a waiting area. There, Christine was left without any assistance for over six hours and ended up missing her connecting flight. 
"KLM Royal Dutch Airlines apologises unreservedly to Ms Wanjiku and her mother for the incident that happened when she travelled in April," a spokesperson for KLM told Reduced Mobility Rights on Friday. "An unfortunate mistake occurred at the time of the booking regarding the nature of assistance required to help Ms Wanjiku transfer to her connecting flight at Amsterdam Airport Schiphol."
Despite Christine's mother telling KLM cares the young woman's condition, the airline support service entered the wrong code in the passenger's notes, causing the wrong information to be passed on at every step of Christine's unfortunate trip.
"Axxicom Airport Caddy met Christine again at around 7 pm when a KLM representative introduced her at our assistance desk," The Manager for Planning & Dispatch of Axxicom Airport Caddy, provider of support services for disabled passengers at Schiphol airport, explained. "However, this time she was introduced not as WCHR, code for passengers with reduced mobility, but as a mentally challenged person, for which the specific code is DPNA."
"KLM expresses its regret that such an incident occurred and apologises for the worry it has caused the family," the airline spokesperson added.
Contacted by Reduced Mobility Rights on behalf of Christine Wanjiku on Monday, the Dutch Inspectorate for Environment and Transport (ILT) is investigating the case and is expected to issue an interim report briefly. In the Netherlands, Regulation 1107/2006 protecting the rights of the disabled traveling by air is enforced by means of reparatory and punitive fines.