Easyjet New Disabled Passengers Rules Better, EU Commission Says
Written by Roberto Castiglioni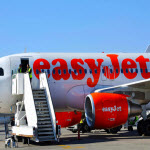 The Directorate General for Mobility and Transport at the European Commission praised Easyjet for progress made with their disabled passengers handling rules.
Jean Louis Colson, Head of Unit of the Directorate expressed appreciation for Easyjet's quick adjustment of their PRM handling rules.  
Colson, who followed developments on the case of Dr Martin Sabry through this website, also said the CAA reported back on progress made with the budget airline.
"With regard to the incident involving Easyjet and a disabled passenger, Dr Sabry, we have been following with great interest the evolution of the case on the Reduced Mobility Rights website." Jean Louis Colson, Head of Unit of the Directorate General for Mobility and Transport at the European Commission said.
Wheelchair-bound Martin Sabry, 39, from Cambridge, arrived at Gatwick airport on 4 January 2012 to catch the Easyjet service to Montpellier, France.
After being accepted on board, Mr Sabry was targeted by the flight purser who had him removed from the airplane after having him read the safety instructions card in front of all other passengers.
"I was made to read safety-card aloud in front all other boarding passengers and say "I can" after each sentence," he says, remarking the unnecessary humiliation. "We will not take you," the purser told him.
"The UK Civil Aviation Authority also informed us about the progress they have reached with Easyjet regarding the transport of disabled passengers and passengers with reduced mobility," Colson added.
In the days following the incident, the UK CAA verbally warned Easyjet. "In relation to the Dr Sabry's situation, we have been in touch with EasyJet regarding the incident, to remind them of their obligations to people with reduced mobility." A spokesperson for the UK Civil Aviation Authority told Reduced Mobility Rights. 
"Notably, Easyjet has published new guidance for crew regarding whether PRMs need to be accompanied. It seems the new guidance is a significant improvement on the previous version and should help prevent similar incidents occurring in the future," Colson concluded.
Most airlines require passengers with reduced mobility to travel with a companion if they are unable to reach emergency exits on their own. The change to the passenger handling instructions focuses on the difference between reaching and walking.
Easyjet's old rules mentioned walking without assistance, but the clarification states "make your way unassisted", not necessarily walking.  Albeit insignificant to some, the above change makes a tremendous difference for many passengers with reduced mobility, who no longer face the possibility of being denied boarding or being required to travel with a companion.
Related Articles
Easyjet Changes Rules For Transport of Disabled Passengers
UK CAA Warns Easyjet Over Martin Sabry Debacle
Easyjet Throws British Disabled Passenger Off Flight At Gatwick Airport