Incheon airport opens security lanes for disabled people
Written by George Sensalis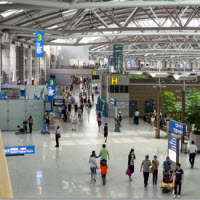 Seoul's Incheon International airport announced the opening of two dedicated security check points for people with disabilities.
From Monday, disabled people will clear security at two dedicated checkpoints. The fast-track check areas are also available to pregnant women, passengers over 80, and families travelling with children under the age of seven.
"People with disabilities wait much longer in the departure process as the airport gets busier," Incheon's Terminal Operations manager Hwang Young-mi said. "This service was designed to provide a better service for them." 
Incheon statistics show the average waiting time in the departure process is 16 minutes for people with disabilities during peak traffic times. Airport management expects the new areas will cut the waiting time to 11 minutes.
Hwang added dedicated security check points should reduce delays for other passengers as well.
This year Seoul Incheon received the highest scores in the categories of Best Airport in Asia-Pacific and Best Airport with over 40 million passengers in the Airport Service Quality (ASQ). The survey is run every year by the worldwide association of 1,860 airports ACI.
Reduced Mobility Rights reviewed information Incheon provides on its website about services available to passengers with special needs. Disturbingly, we did not find any information on the airport's English website.