Germanwings confirms loss of flight 4U9525
Written by Roberto Castiglioni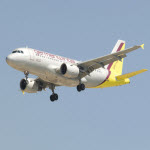 Lufthansa wholly owned low cost airline Germanwings confirmed the loss of flight 4U9525, and Airbus A320 plane with 150 people on-board.
"Germanwings announces with the deepest regret that, according to the information currently available, its Airbus A320 aircraft operating Flight 4U 9525 from Barcelona to Düsseldorf suffered an accident above the French Alps at around 11:00 local time today, Tuesday 24 March," the airline said in a press release. "According to current information, there were 144 passengers and six crew members on board."
The low cost airline operates a fleet of 81 aircraft: 42 Airbus A319, 17 Airbus A320, and 21 Bpmbardier CRJ900. The airline carried 16 million passengers in 2013. 
The Airbus A320 involved in today's accident ( Registration D-AIPX) first entered service on 2 May 1991 with Lufthansa and was last transferred to Germanwings on 31 January 2014.
According to eye witnesses the airplane plummeted out of the sky. Radar data shows flight 4U9525 initiated a rapid descent from 38.000 feet 8 minutes before impacting terrain at approximately 6.000. The French Air Traffic Control said there was no distress call from the plane in the minutes leading to the crash.
"Everyone at Germanwings and Lufthansa is deeply shocked and saddened by these events. Our thoughts and prayers are with the families and friends of the passengers and the crew members," the low cost carrier press release said. "Members of the families of the passengers involved can obtain personal information by calling the toll-free hotline on 00800 11 33 55 77."