Delta Flight Attendant Threaten Disabled Blogger With Deadly Force
Written by George Sensalis
A disabled blogger reported being threatened by Delta Airlines flight attendants with the use of deadly force if he refused to disembark a plane.
Cory Lee was returning home on a flight from Santiago del Chile to Atlanta, Georgia. Upon landing in Atlanta, he was told there was a delay in bringing his 400 lb bespoke wheelchair to the gate and was asked to use an aisle chair to deplane and then wait for his wheelchair to be taken to the arrival gate.
Knowing it can take up to an hour for his wheelchair to be brought to the airbridge, he told flight attendants he would rather remain in his airplane seat to wait. "[Waiting in an aisle chair] puts me at risk for developing pressure sores," Cory said.
That's when things turned sour. "I told the airport crew and flight attendants that I would just stay on the plane until my wheelchair was brought to the door of the plane and they immediately got livid," Cory posted on his Instagram page. "A Delta flight attendant literally threatened us by saying TSA would "make us get off with their guns".
In 2021, disability rights advocate Engracia Figueroa, 51, died following a hospitalization that her attorneys told the Hand in Hand
organization was the result of "complications from injuries she sustained when United Airlines destroyed her custom wheelchair last July."
While waiting for a suitable replacement, Figueroa spent nearly five hours seated in a manual airport wheelchair. Without the pressure-relieving features of her own wheelchair, she developed a pressure sore.
Last year, IATA created a working group to address the issues arising from the incorrect handling of personal wheelchairs. The Mobility Aids Action Group, of which Reduced Mobility Rights is a member, is due to sign off on new guidance for the safe transport of personal mobility aids later this week.
14 CFR Part 382, also known as the Air Carrier Access Act, mandates airlines to bring personal wheelchairs as close to the plane as possible and passengers do not have to get off the plane until they do so.
Cory, who is a frequent flyer and knows the law, remained seated in the plane despite flight attendants' threats to use deadly force to get him to deplane.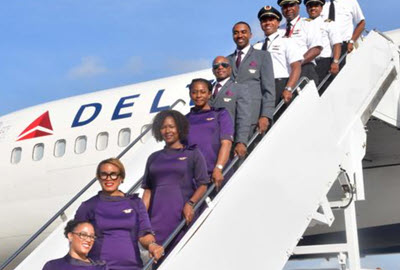 A few minutes after being threatened, Cory was informed by a ground crew employee his personal wheelchair had been brought to the airbridge. "it was relieving to have his help and kindness," Cory said.
Reacting to the incident, caught on video and audio, Delta Airlines issued a public apology.
"The exchange in this video does not reflect the high standard of care Delta people aspire to every day," the statement sent to FOX News Digital said. "We are reviewing what occurred here and will follow up as appropriate with our people. Delta has reached out to this customer directly to hear more about what they experienced and to offer further apologies."
"This flight attendant from Delta Airlines and multiple members of the Atlanta airport staff showed that they do not care about passengers with disabilities or the Air Carrier Access Act to the point that I was threatened with guns to get off the plane," Cory said.