Meet The Wheelchair Set To Revolutionize Airport Accessibility
Written by Roberto Castiglioni
At the Gulf Information Technology Exhibition (GITEX) in Dubai this October, Italian startup Alba Robot unveiled a new autonomous vehicle. The SEDIA (SEat Designed for Intelligent Autonomy) wheelchair is built on a novel concept that prioritizes passenger comfort and airport efficiency.
Italdesign Giugiaro S.p.A., a world-renowned award-winning design and engineering company and brand with headquarters in Moncalieri, Italy, was charged with the creation of SEDIA. Functionality, ergonomics, and balance define the model, making it aesthetically intriguing while simultaneously providing optimal comfort and a high level of usability. The model is an embodiment of the excellence of Italian design applied to contemporary mobility.
Because Alba Robot and Politecnico di Torino worked together on the research and development of cutting-edge technology and unique materials as part of a joint project, the new product also features a significant emphasis on being environmentally responsible.
Why would someone choose SEDIA over the growing number of other companies that sell similar products? For starters, the new wheelchair was developed with the person who will use it in mind, all the while taking into account the unique conditions in which it will operate.
"The SEDIA concept is an autonomous vehicle that is a part of an integrated end-to-end micro-mobility platform that supports a new model for PRM mobility within the airport,"Alba-Robot CEO Andrea Bertaia said. "We're not just talking about moving a robot from point A to B by itself, as Roomba does; instead, we want to move people, which calls for a different set of methods and technology."
The industry-leading IT solutions provider, OZION Airport Software, expressed its appreciation for SEDIA. "The ability to transform data into operational intelligence has never been as exciting as it is today," said William Neece of Ozion. "Real-time data is critical to our ability to manage service operations in our airports. The fact that SEDIA can provide traveler choice as well as communicate vital journey information back to our PRM management is going to help tremendously in our efforts to provide a platform that offers passenger autonomy as well as overall control of service operations in our airports."
When compared to other products, SEDIA outperforms in this particular area because of its superior operational effectiveness. The integration of information technology is vital to the success of autonomous vehicles as a solution for airports. The Japanese-built WHILL was the first ever concept to shake things up in the field. For starters, WHILL was built for general use rather than airport use. Another shortfall is that it utilizes information technology that is owned by a provider who has never shown an interest in integrating with pre-existing mainframes. This significantly reduced the likelihood of success for WHILL.
One of the concerns that wheelchair users frequently bring up is answered by a vital element of SEDIA's design. Airport terminals are
generally quite crowded. When I speak with wheelchair users, I frequently receive the unnerving comment, "I felt vulnerable." That anxiety is resolved by the frontal protective frame that SEDIA offers, a point of view that's also accepted by prominent members of the disability community.
"Airports are busy places. For wheelchair users to move around at a lower height can be hazardous and create anxiety. This new design will give many disabled passengers the safer airport experience they deserve," says Martyn Sibley, Grandee of the U.K. disability community.
Joshua Wintersgill, the developer of easytravelseat, concurs with Martyn's optimistic view. "[It's] great to see more innovative options that looks to provide confidence and safety for passengers to independently navigate airports in a way that suits their needs."
But the one-of-a-kind design of the product does more than just satisfy the needs of the customers. When considering products of a similar type, one of the main concerns most airport operators had in common was the seeming simplicity with which unethical users could steal the vehicle.
In order to provide some context for this problem, I recall that a few years ago, one airport in Europe upgraded its wheelchair fleet with wheelchairs that were at the cutting edge of technology. Within a matter of months following the introduction of the 140 brand-new machines into service, seven of them had been reported stolen.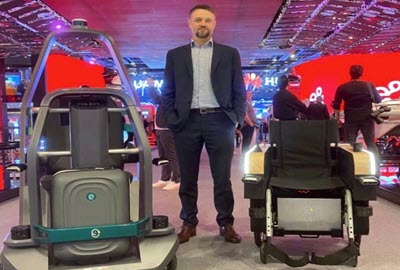 Because SEDIA is geared to meet the demands of WCHR and WCHS passengers, all of whom make up the majority of wheelchair users moving through airports, it also represents the answer to the issue of staff shortages, which can arise for a variety of reasons, which include understaffing, illness, or strike action.
In the years to come, will SEDIA be able to make a difference for passengers with disabilities? "As passengers going through airports are heterogeneous and face a variety of needs, the first year (2023) will be used to develop and assess, in partnership with the major stakeholders, a new mobility concept focusing on people, comprising passengers and airport operators," says Andrea Bertaia. "Initially, there will be a limited number of SEDIA, but a great deal of attention will be dedicated to their integration. Afterward, the number of autonomous wheelchairs will grow and ultimately become the norm."
Airport operators have already shown interest in Alba-Robot's SEDIA. "As the first airport to approach and encourage WHILL while in their start-up phase and pilot PRM public interests with WHILL and Scootaround, we knew in 2015 that the need for personalization through mobility independence existed and would only continue to grow due to the aging population and emergent health concerns, likely outpacing staff availability," says Brian Cobb, Chief Innovation Officer, Cincinnati/Northern Kentucky International Airport (CVG).
"Seven years on, I'm encouraged to see new entrants like SEDIA rising to meet the micro-mobility market, particularly demonstrating human-centered design and data-rich gathering capabilities. Features and competition aside, micro-mobility will be about listening to what the consumers' and caregivers' needs are and what a personalized experience means to establish any loyalty that will complement, not replace, PRM services by becoming less dependent on staff intervention and removing interference on the otherwise positive travel experience."