Is Making Aviation More Accessible Even Possible?
Written by George Sensalis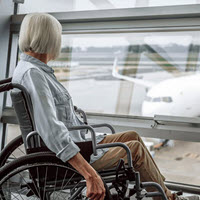 One of the most important developments in the aviation industry is to provide accessibility for all. This includes people with disabilities, elderly people, and those who travel with infants and young children.
In this article, we will explore how accessibility can be improved in aviation. We will highlight gaps, and discuss the importance of making improvements and how they can improve safety and comfort for passengers with disabilities.
Airplanes have been a popular mode of transportation for decades because they are convenient and fast. However, not everyone has been able to enjoy air travel due to the lack of accessibility options that are available on airplanes. If a person isn't able to sit comfortably or has the wrong seat and support, they will be facing an unpleasant journey. Low-cost carriers are a great way to save some money, but they often lack accessibility features. For example, the airplane is often only accessible by stairs and this can be challenging for people who have mobility issues. The boarding process can be hectic, not giving enough time for persons with disabilities to board first as they should. Furthermore, very few airlines outside of the United States allow for the storage of manual wheelchairs in the cabin.
Campaigners supporting the idea of getting personal wheelchairs in the cabin are gaining momentum and are now pushing for a change that they feel is long overdue. Legislators on both sides of the Atlantic are supporting this idea, something that's giving hope to end-users too.
"Fuming. Kids & wife on holiday. Son's wheelchair was damaged in transit, presumably unintentionally. Unusable. He can't even get in it. His holiday potentially ruined," Jonathan Dee posted on LinkedIn two days ago. "This is why Christopher Wood MBE 's campaign to get wheelchair users that use airplanes to be treated like able-bodied people NEEDS to be successful."
Wood has been campaigning for years to get personal wheelchairs in the aircraft cabin. Just two years ago, Wood joined forces with Nigel Smith and Paul Priestman to establish the Air4All Consortium. This team is comprised of a group of committed individuals who have the expertise, knowledge, and understanding to deliver a world-changing aviation experience that will forever change the way people travel. The consortium, working alongside a major airline, is currently in the development stages of a prototype.
More work is required to improve assistance services at airports. Manchester Airport in the U.K. recently made headlines for a series of service failures involving disabled elderly passengers who had pre-booked wheelchair assistance but had to wait for hours for someone to show up.
Earlier today, Kate Croston shared her mother's harrowing experience at Manchester airport. "My mother flew out of Manchester to visit me in Australia. She couldn't walk long distances, so I booked wheelchair assistance. On the way out in March, the plane to Singapore was delayed by over an hour because no one was available to provide wheelchair assistance," Kate said. "She arrived back in Manchester yesterday morning to be told she would have to walk from the plane. She refused and eventually they found a wheelchair and pushed her to the luggage claim. They abandoned her with other people who had booked wheelchair assistance, saying they would be back when the luggage came through. After over an hour, there were only their suitcases on the conveyer and she had to get her own luggage and struggle to walk out of the airport."
Unfortunately, these incidents have been a common occurrence in many of the busiest airports around Europe and beyond. They are largely caused by a severe shortage of assistance staff and are now posing an imminent risk to travelers.
In India, the case of a young man with a hidden disability denied boarding by budget carrier IndiGo resulted in the airline being fined Rs 5 lakh (US$6,450/£5.100). The story that followed quickly went viral on social media and caused many people to criticize IndiGo for its lack of empathy and understanding when it came to people with a disability.
Is Legislation The Only Way to Help Create a More Accessible Aviation Industry
The aviation industry has been a source of inspiration for many people. However, it is not accessible to people with disabilities and elderly people due to the lack of accessibility in airports and on planes.
Legislation is not the only way to help create a more accessible aviation industry. Airlines are also taking initiative by providing more services for disabled passengers and investing in technology that can help make airports more accessible.
In December 2021, The Department of Transportation and the U.S. Access Board held a virtual public meeting to collect information on how to deal with wheelchair transport in airplanes.
At the DOT's request, the Access Board has created guidelines for those involved in designing onboard wheelchairs. They are voluntary but will help air carriers and wheelchair manufacturers by providing a prototype that meets the DOT's proposed standards. These guidelines offer insight into how to design a wheelchair space in the cabin that is safe and comfortable. Designs should include armrests, footrests, movement or swiveling, stability, leg rests, and other aspects in consideration of the user's comfort.
The government agencies will use this information to finalize performance standards and advisory guidelines for aircraft onboard wheelchairs. Wheelchair tasks that are currently difficult or impossible to perform on aircraft are outlined, and guidelines will be offered for each of these tasks.
Providing toilet accessibility on single-aisle flights is another area where airlines are falling behind. In Europe, Airbus launched the Space Flex accessible toilet solution for its A320 aircraft. As a result of this new innovation, passengers using wheelchairs or with impaired mobility can now seamlessly use the lavatory onboard by themselves. Budget carriers easyjet and Vueling were among the first to adopt this accessible toilet on their new aircraft, which features a wheelchair-accessible door and space for a caregiver to assist the passenger.
Across the Atlantic, the Department of Transportation is undertaking rulemaking under the Air Carrier Access Act to improve access to lavatories on single-aisle aircraft with 125 or more passenger seats. They are looking to address one of the major challenges for passengers with limited mobility by pushing for better accessibility so that they may be able to use restrooms while in flight.
The U.K. Civil Aviation Authority recently updated CAP 1228, which gives airports guidance on legal requirements to assist people with disabilities. The CAA has released new guidelines for airports to measure total journey times by using real-time IT. The document also provides guidance on the requirement to meet "continuous journey" standards for arriving passengers, and guidance on how to assist departing passengers in time for preboarding.
How Technology has Made it Easier for Those with Disabilities and How It is Being Used in the Airline Industry
The aviation industry is one of the most technologically advanced industries in the world. And with new innovations, it has made it easier for those with disabilities to fly.
There are many digital disability tools that are being developed to help people with disabilities navigate through airports and airplanes. One of them is an app called Aira that helps people who have low vision or blindness by providing audio assistance as they walk through the airport and onto a plane.
A new software provider just launched a service that benefits disabled passengers, airports, and airlines. PRM Assist is a helpful mobile application where passengers can start their assistance from home and have greater transparency and control over their travel needs. The app gives airports and airlines the opportunity to view data about passengers with disabilities months before the departure date, helping them plan and organize their services.
But IT solutions are not only used by passengers. Modern IT systems are becoming very popular among airport operators to best manage customer requests for assistance. This is done by being able to efficiently handle service requests, as well as facilitate the process of locating staff or navigating the airport. OZION, a leading IT manufacturer in the field, recently launched their latest Airport PRM Manager, which is being eagerly awaited by an ever-increasing number of airport operators. This latest release is the most advanced yet and offers the best solutions for airport management, promising to transform the concept of "Digital Aviation" into reality by using SMART Airport Assisted Service Software. The new Software Suite will bring Airports, Airlines, and Service Providers useful tools that are tailored to the industry. The toolset is designed to provide real-time operation data, reports, and analytical access.
The Future of Accessibility in Aviation
There are a number of technologies that are currently being developed to help make the world more accessible for people with disabilities. These technologies can help disabled people travel, and communicate their needs for assistance without difficulty. Airports are also upgrading the accessibility of the built environment by taking into account all aspects of universal design for renovations or new projects.
"Accessibility in aviation is a cultural concept that translates into an accessible built environment and all the services that contribute to an inclusive journey," says Roberto Castiglioni MBE. "Through air travel, disabled people and their families are able to connect with those in other parts of the world. This helps ensure that they will have full participation in all aspects of life."