Air Travel With Dementia Made Easier
Written by George Sensalis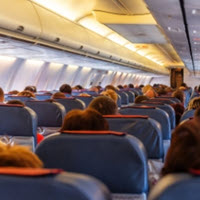 Air travel can be a stressful situation for anyone. But it's even more difficult when someone in your family has dementia. You've probably already heard the horror stories about passengers being left alone on airplanes and ending up lost or confused at their destination.
In most cases, it's not the airline that is to blame but rather the lack of preparation and simple mistakes made by worried family members. Follow these tips and you'll find that air travel with dementia can be manageable and even fun!
Dementia is scary for the person with it and their loved ones. It can be a lonely, confusing and frightening experience, particularly when traveling by air. However, there are steps you can take to make the process easier.
Most people who have been diagnosed or know someone diagnosed with Alzheimer's Disease (AD) can't travel alone without anxiety because they don't understand how their disease impacts them in certain situations. This article provides tips on traveling by plane, and airline safety considerations.
Dementia is a term used to describe a set of symptoms affecting memory, communication, and behavior. If you're living with dementia, it can be challenging to travel by plane. Plan ahead.
If you are one of the many people who have been diagnosed with dementia, then you know that traveling can be a challenge. It's important to realize that flying with your condition can be made easier by taking some time to prepare before you travel. Follow these tips to learn how to prepare for your flight, what to expect at the airport, and what measures need to be taken on the plane itself.
1. Allow extra time when scheduling activities. Don't be so quick to rush out of the house because you need to "get extra time in before your flight"; it is okay, and even a good thing, if that place becomes a second home after such an experience!
2. while traveling arrange for car service to the airport so you can avoid the shuttle from the parking garage to the terminal. Check your bags curbside, too.
3. When it comes to the checkpoint of the airport, if you are going with someone who has dementia, keep in mind that this person may not be able to follow convention or procedure by walking through a metal detector (the purpose is for security only). You must talk first and ask specifically about your loved one's needs at this checkpoint.
4. It is best for the care partners to check with the TSA agent beforehand before leaving on an international trip so that they know what checkpoint their traveling companion will need to use. This support may help expedite the process and reduce stress. while at the security checkpoint, ask what to expect and inform the security checkpoint TSA agent about the dementia diagnosis without hesitation.
5. People with dementia have different sensory and motor skills that can make boarding a plane particularly challenging for them. It is important to find ways of helping someone with dementia board without having too much impact on their mobility or safety in the air, e.g. not allowing them to walk in front before they've displayed any symptoms, but also making sure they are able to follow instructions such as boarding early so that there aren't long queues at check-in and security screenings.
6. Direct flights are the best travel mode for dementia patients. By planning ahead, some of these problems can be avoided. Nowadays, we plan to reduce our stress in every aspect. When possible, try to book flights at times during the day when your loved one is likely to be at their best. If they have difficulty communicating, it may be helpful to book an aisle seat so that they can easily reach out to other passengers if they become anxious or confused. Try not to book a flight right before your loved one's regular bedtime; not sit alongside strangers who might disturb us while traveling and after arrival at our destination.
7. Tight connections are not a good idea. If the flight schedule is full, or uncomfortable because of tight connections, then in order to get our travel done at all it will be best if we refuse to go on that particular flight and choose another time/flight option instead. In other cases, we should arrange for assistance with a wheelchair and also medication as required during the transfer from one airport to another so that there will be no problems due to tight connections.
8. Traveling can affect the safety of a person with dementia. To avoid wandering, it is important that you take precautions and identify techniques to prevent wandering inside the airport or at your destination.
9. While onboard the airplane, flight attendants are always helpful and willing to help as much as possible. When at the airport, try using restroom signs that can be used by passengers with special needs such as wheelchair users or people who need extra time in the restroom because they may not understand what is happening.
10. Determine emergency contacts. This is vital for you and your family, especially if your loved one is traveling on a trip alone. It will help everyone to know who to contact when if an emergency arises so that the other person does not have to worry about contacting someone with dementia or Alzheimer's Disease during this stressful time. The best thing would be everyone knows who each individual member should call in case of emergency!
11. Dementia can make airline staff very frustrated because they feel their efforts aren't recognized. The passenger with dementia may have problems communicating, will wander off and refuse to sit still in the air cabin, or be aggressive towards staff. Meanwhile, airline staff is unaware of Alzheimer's disease symptoms, which causes them to treat passengers harshly as a result of a lack of awareness that people with this illness often become agitated during transportation. One idea is to have the passenger with dementia wear a badge or the industry-wide recognized Sunflower Lanyard that indicates they need extra assistance. This is of critical importance in case of flight delays, gate changes, flight cancellations, or flight diversions.
12. People with dementia have issues in a familiar environment. It will not be easy for them to adapt and adjust when moving from a familiar environment to an unfamiliar environment. A familiar environment is a place where their family lives, works, or people who are caring about him/her. Technology allows people to familiarize themselves with a new environment like an airplane cabin by means of virtual visits. Some airports and airlines regularly organize guided visits for persons with disabilities.
13. Dementia affects the person's ability to reason, think and remember. The loud noises typical in an airport environment may lead to behavioral problems in people with dementia leading them into uncomfortable situations resulting in exhaustion or confusion especially when they travel away from familiar places. Headphones are recommended for people with dementia. Studies show that it helps them drown out the loud noises of tubes and jet engines, helping to prevent anxiety attacks during travels in public transport or flights.
14. Travel time should be as short as possible, because of the increased risk of dementia-related symptoms such as agitation and confusion while in transit. Where the itinerary requires one or more connections, it is best to fly with a travel companion.
15. If you travel frequently, always travel with your pills and medicine. If the person has Alzheimer's disease, it is highly recommended to keep a list of their current medications as well as dosages for them when traveling; avoid food allergies if possible that can lead to confusion or even life-threatening reactions. Always carry medical documents such as living wills and advanced directives so they know how they want the healthcare providers to proceed in case there are any complications while traveling away from home.
Let's face it, traveling with dementia isn't easy. But that doesn't mean it can't be done; there are plenty of things you can do to make the process easier on yourself and those around you. Whether your loved one has Alzheimer's disease or frontotemporal dementia, rest assured that air travel is more common than you might think, and more people with dementia fly every day without any issues at all.