Accessible Toilets On Airplanes In America
Written by George Sensalis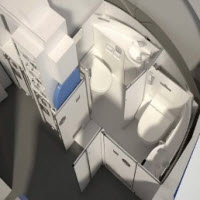 The U.S. Department of Transportation proposed requiring airlines to make toilets accessible in a narrow aisle for wheelchairs, but not requiring large toilets.
A new DOT regulation proposal would require airlines to build at least one toilet on large narrow-body aircraft large enough for a passenger with a disability to move freely in a wheelchair. A 2016 regulation required aircraft with more than 125 seats to have a narrow wheelchair (known as an aisle seat) and toilets with handles and controls for the disabled. In 1992, regulations requiring aircraft to have at least one accessible toilet only applied to wide-body aircraft with two aisles.
A newly built twin-aisle widebody aircraft must have at least one bathroom presumably accessible to the aircraft. If you're especially large, you won't even be able to use an aisle seat to get to the bathroom on the plane. Usage is generally not a problem as there is a collapsible "aisle chair" on board and flight attendants can help you get to the restroom.
A wheelchair at the edge of the aisle is the only way to get to the restroom on the plane if you can't walk. Typically, an airplane bathroom cannot be large enough to accommodate a full-sized wheelchair; wheelchair users usually sit on the aircraft using an aisle seat that is narrow enough to navigate the aisle separating the rows. In the first round of modifications, only wide-body aircraft - two-aisle - must have a bathroom that can be used by people using an onboard wheelchair to navigate narrow aisles.
Less than 5% of narrow-body passenger aircraft flying to the United States have bathrooms large enough to be accessible to people who need to use wheelchairs on board, according to the Government Accountability Office. For example, a narrow aisle on an airplane means that the use of personal wheelchairs is not possible, meaning that passengers are forced to use airline-provided wheelchairs instead. One issue, in particular, arises when it comes to wheelchair accessibility on easily accessible commercial flights. The inability to use the toilet on long-haul flights can create serious problems for passengers in wheelchairs.
Although the bathroom in a twin-body aircraft is larger, it will still be narrow, especially if it crushes a fellow traveler or travel assistant. Under the proposed rule, airlines must ensure that at least one toilet on new narrow-body aircraft with 125 seats or more is large enough
for a passenger with a disability to access with the help of an escort, if necessary. get out of the toilet in a wheelchair onboard the plane. According to the analysis, the second proposal for large bathrooms equipped with seating will not be required for new aircraft for 20 years, meaning that the second proposal for large sizes will not apply to all aircraft in flight until 2068.
Future regulations may require bathrooms to be more like the larger structures seen on two-lane aircraft, which could require airlines to cut even more kitchen space or eliminate some seating. Airlines told the committee that adding fully accessible bathrooms, like those found on larger two-lane Space-Flex aircraft, would require them to remove seats or reduce even more crew kitchen space. Airlines must remove signs for the disabled from closed toilets and, if necessary, inform travelers about the peculiarities of the accessibility of toilets.
The first round of changes will require bathrooms on new aircraft with at least 125 seats to have handrails, call buttons, sensor faucets, and other features available. In the proposed rule, the US Department of Transportation said that airlines operating new narrow-body aircraft with a capacity of 125 or more people must ensure that features such as toilet seats, assist handles, faucets, operator call buttons and locks are available. The proposed rule would require airlines to build at least one toilet on new narrow-body aircraft with 125 seats or more, large enough for a disabled passenger (with the help of an escort if necessary) to approach, enter and maneuver inside. toilet on the plane, use all the facilities in this toilet, and leave the plane in a wheelchair. In 2019, at the behest of Congress, DOT proposed a set of requirements that would make at least one bathroom on every 125-seat narrow-body aircraft more accessible to the disabled without an expansion.
The U.S. Department of Transportation announced the publication of a Notice of Proposed Rulemaking (NPRM) that will improve toilet accessibility for people with disabilities traveling on new narrow-body aircraft. As in the past 25 years, USDOT is still aEURoencouragesaEUR, but nonaEUR(TM) does not require airlines to place accessible toilets on all of their aircraft.
The Air Carrier Access Act requires accessible toilets on wide-body aircraft, but not on narrow-aisle aircraft such as the Boeing 737, one of the most widely used commercial airliners. The Air Carrier Access Act requires airlines to provide storage space in the cabin for foldable, collapsible, or removable manual wheelchairs. Under the Air Carrier Access Act (ACAA), for domestic flights within the United States on narrow-aisle narrow-body aircraft, you can contact your airline and request an aisle seat on your flight. If an airline chooses not to install a wheelchair locker as required by the Air Carrier Access Act, a manual wheelchair must be secured in the cabin using a seat anchoring method.