5 Easy Steps to Flying with Your Wheelchair in the USA
Written by George Sensalis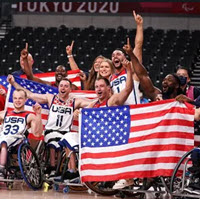 Flying with your personal wheelchair isn't just about getting from one place to another. It's about being able to go where you want when you want, no matter where that is.
Step 1: Booking your trip
When booking your trip, be sure to ask whether you'll need special assistance at either end of your flight. Most airlines require passengers who use personal wheelchairs or scooters to check in at a special desk, so having your boarding pass issued ahead of time will save you some trouble. You should also try and let airline staff know that you are traveling with a wheelchair when making any subsequent changes; they will be able to ensure proper assistance is provided. If you have questions or concerns while booking or while preparing for travel, reach out directly by calling one of these toll-free numbers: Delta - 1-800-221-1212; United Airlines - 1-800-864-8331; American Airlines - 1–800–433–7300.
Step 2: Working with the airline
A few days before your flight, the airline will ask you for the exact dimensions of your wheelchair (front-to-back and side-to-side) and which type of airline handle it has. Every airline has a slightly different approach, but generally, they'll allow you to print out an official document (in PDF format) that tells them exactly what kind of wheelchair you have so they can accommodate it. Don't forget to attach any relevant documentation regarding the chair. This includes manufacturer specifications, crash testing reports, or even previous notes from your local airport. Once you give them all the information, most airlines can do special training for the staff at the airport in charge of handling your wheelchair during check-in, loading, and unloading. The last thing you want is for your chair to be damaged on its way to where you need it. Always be sure to keep track of where your wheelchair is at all times.
Step 3: Help at the airport
Once you've got your boarding pass, it's time to make your way through security. Make sure to ask for help if you need it—it's a good idea not to carry heavy items like batteries or laptops in your lap because they can slow you down or tip over while you're moving. If a TSA agent helps, let them know that you use a wheelchair and want help getting through security as quickly as possible. If a family member or helper is traveling with you, he or she will be able to get through screening faster by having him/her opt-out of screening by swiping their own ID card rather than asking for your assistance in going through the process. This is especially helpful if you are flying with an assistant who has another flight to catch after helping you. A quick word about wheelchairs: You may have noticed that some airports have loaner wheelchairs available at no cost (often located near baggage claim) but others charge for use. If there are free wheelchairs available, feel free to take advantage of them! But don't feel obligated to do so just because someone asks; sometimes people just aren't aware that there are free options at airports and don't mean any harm when they offer one anyway. Keep in mind: if you choose not to take advantage of these services, it doesn't mean someone else won't benefit from using them instead!
Step 4: Boarding the plane
Ask your airline if you can pre-board. This way, you won't need to be a part of a rushed and crowded group that has only minutes to enter their seats before the closing of doors. If not, there's nothing wrong with being assertive! Let people know when they need to move out of your way so you can make it into your seat safely. Once seated, ask for an aisle chair (if available) so you have easier access to bathrooms or other areas onboard. Also, let your flight attendants know about any special needs or requests for assistance during your flight; many airlines will accommodate these kinds of requests as long as they are made in advance.
Step 5: Once onboard
Though you can usually stow your chair in an overhead bin, always ask your flight attendant if there is an open spot. The overhead bins are often closer to one side of the plane, making it difficult for some people to board or disembark. If there isn't a wheelchair-accessible aisle seat available on your flight, you should ask for a seat near a restroom (so you don't have to deal with moving long distances). If there is no way for you to transfer from your seat onto either a window or an aisle seat, inform attendants that you will need assistance in moving through the cabin—preferably by using ramps or lifts so they don't have to lift you themselves. Once you get to your seat, check whether there is enough room for you to maneuver around. If not, let a flight attendant know right away so they can help move someone else into another seat. Also, be sure to let them know about any special accommodations you may need during take-off and landing: You may want earplugs or extra pillows as well as blankets. Most importantly: Have fun! No matter what kind of travel experience you're looking for, it's important to do what makes YOU comfortable! And remember: It doesn't have to be perfect – just plan ahead!