The Complete Short Guide to Airline Wheelchair Assistance
Written by George Sensalis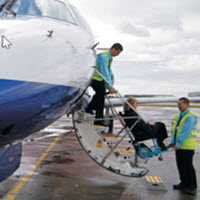 Traveling with a disability is far easier today than in the past but there are key components of the journey one must be aware of to have an enjoyable experience.
What is Airline Wheelchair Assistance?
Wheelchair assistance is provided by airlines and airports to help passengers get on and off the plane. Airlines provide wheelchair assistance to those with disabilities who require it.
Wheelchair assistants are often employed by airports, airlines, and service providers to help those with disabilities board a plane.
How to Get Airline Wheelchair Assistance?
Airlines (or airports, in Europe) are required by law to help disabled passengers. In Europe, the United States, Australia, and other countries this is free of charge.
The law requires that airlines and airports provide wheelchair services for disabled people and their dogs. They also must provide boarding assistance for disabled people who need help getting on and off the plane, as well as assistance with getting in and out of their seats.
European airports have a disability desk where you can get help with any of these services or find out about other accommodations that might be available at your destination airport.
Airline Wheelchair Assistance is not always free; In some countries, it usually costs an additional fee.
How to Book Wheelchair Assistance?
Your main point of contact is the airline. In the United States, there is no obligation to let the airline know of your needs at the time of booking. However, it is always best to do so, to ensure you will receive the best possible service.
Assistance can be booked on the airline website or over the phone at the time of booking your flights, or it can be requested at check-in (not recommended).
What Type of Assistance do I Get?
At the airport, you will receive assistance or an escort to and from the aircraft, help with stairs where necessary, transport for your personal wheelchairs, and mobility aids.
Once onboard the aircraft, the cabin crew can help you find your seat and familiarize you with the seat and surrounding area, store and retrieve your hand baggage, move between your seat and the lavatory, assistance with opening any packaging of your on-board meal, identify your food and layout on the tray.
Is There Something I Have to Do on My Own While Onboard?
During your flight, you will need to look after personal care, such as eating and taking medicine, as well as personal care in the lavatory, and deal with the needs of your assistance dog.
Do I Need a Safety Assistant (Travel Companion) On My Flight?
You will need to travel with a safety assistant if you need help to lift yourself, for example in or out of your seat, reach an emergency exit without help from others, communicate with the crew on safety matters, unfasten your seat belt, retrieve and wear a life jacket, and fit an oxygen mask without help from others.