Airport Accessibility Award Gearing up for 2021 Edition
Written by George Sensalis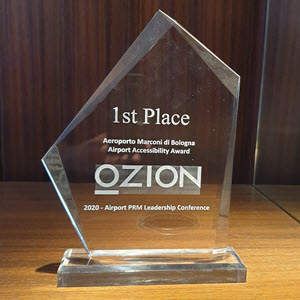 In 2020, Ozion PRM Leadership Conference hosted the first edition of the Airport Accessibility Award.
Chaired by Roberto Castiglioni, founder of Reduced Mobility Rights, the Accessibility Award acknowledges airport operators who go the extra mile to deliver the best possible journey to persons with disabilities traveling by air.
COVID-19 wholly reshaped the aviation industry, with airlines and airports severely downsized because of travel restrictions. However, persons with disabilities continue to travel by air. With airports operating at minimum capacity, keeping awareness on assistance services is extremely important to ensure passengers will find quality support during their journey.
Bologna Guglielmo Marconi International Airport won the first edition in 2020. The airport was voted by PRM Leadership Conference attendees from 54 countries around the world.
Pandemic-related travel restrictions did not allow for the immediate delivery of the award, which was hand-delivered by William Neece, Director of Airports at Ozion Airport Software and Roberto Castiglioni on July 13th, 2021.
"Even during these testing times, the airport has maintained a goal of delivering exceptional passenger experience, while whole procedures underwent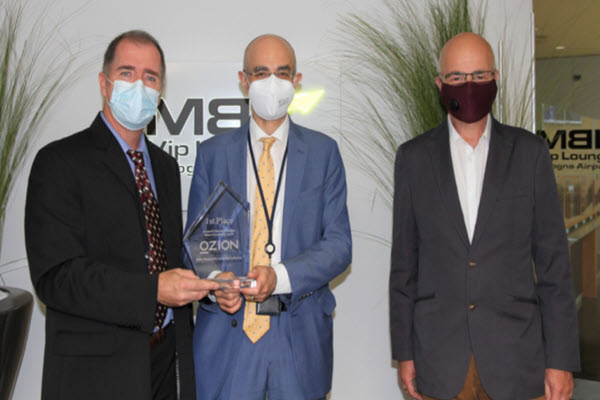 change during this COVID period, we have continued to care for our passengers, not only that but we've also taken care of our staff, their safety throughout this period has remained paramount", Nazareno Ventola, Bologna Airport CEO said receiving the award. "it's been a key lesson, to help us in recovery, we now know the operational future won't be like before, we need to build on this experience, if we build on our learnings, we will become stronger and better. The humanization of our PRM service has always been in our DNA and this is now stronger than ever".
This year's PRM Leadership Conference will take place on October 14th, 2021, once again in a virtual environment.
Entries for the Airport Accessibility Award 2021 are now open. "I am delighted to chair this year's Accessibility Award and invite airport operators to submit their entries at their earliest convenience", Roberto Castiglioni said. "The six finalists will showcase their assistance services during the course of the conference and, like last year, attendees will be asked to vote and pick the winner of this year's award."
Airport operators can use the Contact Us form (
click here
). Please choose "Other" from the drop-down menu before making your entry.