Why Pre Booking Airport Assistance Makes a Huge Difference
Written by Roberto Castiglioni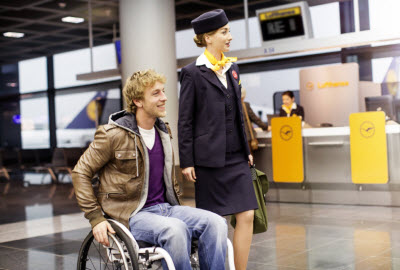 Travelers requiring some form of assistance when traveling by air often forgo pre-booking airport assistance at the time of booking their flight. While pre-booking is not a firm requirement, it does make a huge difference in the availability of services and quality of assistance they receive.
To best understand the value of pre-booking it is worth seeing the journey from the other side of the counter, in other words from the airport and airline's perspective.
Taking a flight is seen as a straightforward experience. However, most passengers are unaware of the number of different stakeholders involved per single flight.
There is the airline, the airport, often a third party providing check-in services, the assistance provider, security staff, the ground handlers and baggage handlers, just to name a few.
Some campaigners believe services should always be readily available to assist passengers who require assistance. While this is the ideal scenario in a perfect world, reality shows that requesting assistance once at the airport may not be sufficient to guarantee a seamless journey.
On the other hand, pre-booking assistance at the time of booking your flight will massively increase the chances of a smooth journey. But how does that happen and what makes such a difference?
When a passenger requests assistance through an airline's website, the system automatically generates a message called SSR (Special Service Request). This message is sent to key stakeholders, the airport of departure and arrival, and their assistance service providers.
Where required, the message is also automatically passed on to ground handlers and other relevant stakeholders who may be required to assist the passenger through the journey.
These four-letter messages known as IATA Codes tell all parties involved the nature and degree of assistance required. There are messages for just about every need of assistance.
For the sake of better understanding the value of pre-booking assistance, let us use the fictional journey of John and Laura. These two passengers do not know each other but coincidentally booked the same flights: London-Frankfurt-Malaga. They both booked these flights as flying direct was significantly more expensive.
John is a double amputee and travels his manual wheelchair; Laura is a young adult with Autism traveling alone.
John's journey with pre-booked assistance. At the time of booking his flight, John let the airline know of his mobility requirements and that he is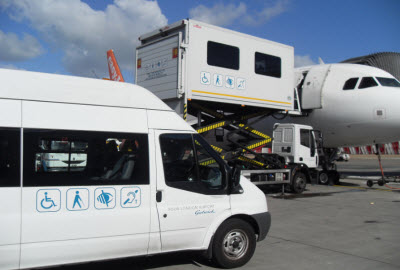 traveling with his manual wheelchair. The airline automatically informed the three airports, their assistance providers, and ground handlers involved in the journey of John's needs.
John's Layover in Frankfurt, the intermediate airport, is 90 minutes. That is just about enough time for the ground handlers to transfer John's wheelchair from one aircraft to the next while assistance services are helping him make his way from one flight to the next.
John's journey without pre-booked assistance. John arrives at the airport of departure one and half hours before his flight and lets the check-in agent know of his needs and requirements. The agent enters the request for assistance into the system which generates the SSR code letting all involved stakeholders know of his presence on the upcoming flights.
Due to congestion and pre-booked assistance requests, John makes it to his first flight, but he is not boarded before general boarding. Upon arriving at Frankfurt, he is told that due to pre-existing workload, 90 minutes will not be sufficient for ground handlers to transfer his wheelchair from the first to the second aircraft. John is now faced with two options: Arrive at his destination and having to wait for his wheelchair to be delivered to him the next day or being rebooked on a later flight that day to ensure his wheelchair is on the aircraft.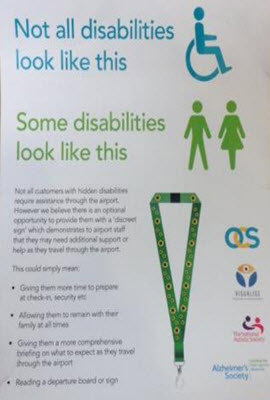 Laura's journey with pre-booked assistance. Laura arrives at the airport of departure one and a half hours before her flight. She walks straight to the assistance meeting point where the staff takes care of checking her and her checked luggage in. She is then escorted through the airport and onto the aircraft. Upon landing in Frankfurt, she is met at the aircraft door by an agent who whisks her through the busy terminal and onto her connecting flight. Upon landing in Malaga, she is once again met at the aircraft door and escorted all the way to the baggage hall.
Laura's journey without pre-booked assistance. Laura arrives at the check-in desk with time to spare. However, she joins a queue of other passengers catching the same flight. Because of the crowd, Laura does not mention her condition to the check-in agent and makes her own way through the terminal building. Crowds and noise cause her to be anxious and her anxiety further raises as she joins the queue to board the aircraft.
Upon landing in Frankfurt, and still distressed because of the previous airport journey, Laura becomes disoriented and misses her connecting flight. As she did not pre-book assistance, she does not immediately qualify for rebooking her connection free of charge. However, in order to qualify, she needs to provide the airline with evidence about her condition. After few hours, Laura catches her rebooked flight to her final destination.
As mentioned earlier, these are fictional journeys, and an array of unmentioned variables may come into play as well. However, based on passengers' complaints, these examples may very well represent the standard difference between pre-booking airport assistance or not.
The common denominator is the safety and ease of travel pre-booking airport assistance adds for persons who require assistance when traveling by air.