Is Ryanair boss waging war on passengers with special needs?
Written by Roberto Castiglioni
Over the past few years, the aviation industry has become familiar with Ryanair chief Michael O'Leary's abrasive style. 
Speaking at the Future Travel Experience conference in Ireland, O'Leary called airports "big, fat, dumb bastards."
Having caught the audience's attention, the boss of the largest European airline and one of the largest in the world went on saying "We should all [airlines] be working together to screw the airports because the airports have been screwing us probably since Wilbur and Orville Wright first flew."
Airports cannot exist without airlines, and vice versa. But neither can exist without passengers. O'Leary's vitriolic words leave no room for interpretation: maximize profits at the expense of service quality. Ultimately, the key element of the equation (passengers) stand out to lose most.
In the UK and Europe, services for passengers with special needs are paid for by a small tax (PRM charge) that airlines pay airports for every departing passenger. In most cases, this tax is lower than one Euro (One Pound).
In a report published four years ago, I highlighted the correlation between the shortage of resources and poor service output.
In 2016, The UK Civil Aviation Authority rated Edinburgh service output as poor. It will not come as a surprise that, at that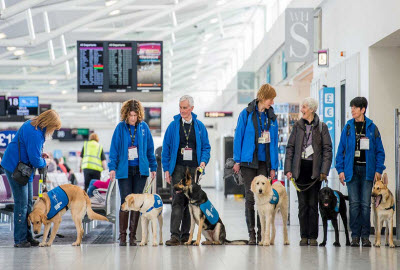 time, Edinburgh was the UK airport with the lowest PRM charge. Things have dramatically improved since, also thanks to additional resources found by raising the PRM charge.
Historically, airlines have been proactively pushing the PRM charge down, claiming airports should be doing more and better with whatever money is already raised.
In December 2016, the UK Civil Aviation Authority wrote a letter to all stakeholders, reminding airlines that the existing legal framework "does not allow airports users [airlines] as defined by the Regulation [EC 1107/2006] to take the decision on the level of the charge and impose this on airport managing bodies.  Ultimately, therefore, an airport can impose the level of the PRM charge upon airlines."
O'Leary's unsparing words raise more than one red flag. Fewer resources available to airports inevitably translate into poor service output, with most vulnerable passengers at risk of bearing the highest burden.
Perhaps the time has come for Regulators in the UK and across the European continent to proactively enforce the spirit of the law (Regulation EC 1107/2006).
Article 8.4 Regulation EC1107/2006 states "This specific [PRM] charge shall be reasonable, cost-related, transparent."
Simply put, when the wolves are out for blood, the men of Law must take it upon themselves to ring fence resources that guarantee access to air travel for people with special needs.