Guide dog Joey first member of the easyjet Furry Flight Club
Written by George Sensalis
Budget airline easyJet welcomed the first member of its 'furry flight club' yesterday, with guide dog Joey reaching the milestone of 35 flights with easyJet alongside his owner Jan Gibson. 
Joey, Jan, and husband Roger, mainly fly between London Luton and Paphos, Cyprus. Joey, a Labrador, will be seven next month and has been with Jan for five years. He is her fifth guide dog.
Much like easyJet's 'flight club' loyalty scheme for its most frequent flyers, furry flight club will focus on rewards which are most appreciated by the airline's most loyal four-legged friends – doggie treats.
Easyjet carries, hundreds of passengers with an assistance dog each year. In 2012 easyJet set up a committee of European experts (ESAAG – the easyJet Special Assistance Advisory Group) to provide guidance and advice to the airline on the services it provides to passengers who require special assistance. Esaag members meet regularly with easyjet managers to discuss the company's proposals, best practice, and emerging issues.
"All our flights have been with easyJet and we have always been made to feel welcome on board," Jan Gibson, Joey's owner,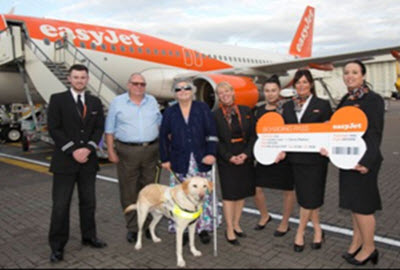 said. "As this is Joey's 35th flight, some of the crew have traveled with us on more than one occasion so we feel like family".
Mr. Gibson explains Joey enjoys flying, and will usually sleep at his feet through most of the flight, although does go for a walk half way through. 
 "We are delighted to welcome Joey as the first member of our 'furry flight club'," Peter Duffy, easyJet's Group Director, Customer and Marketing said. "With 35 flights under his collar, he must be one of the most traveled dogs in the country and we are really pleased Joey, Jan and Roger have chosen to fly with us again and again."
"We always seek to improve the travel experience for all passengers, including people traveling with assistance dogs," Lord David Blunkett, chair of easyJet Special Assistance Advisory Group, said. "We are very pleased that Joey and his owners Jan and Roger are able to regularly fly with easyJet. I hope this also reassures other people with assistance dogs that they can travel too."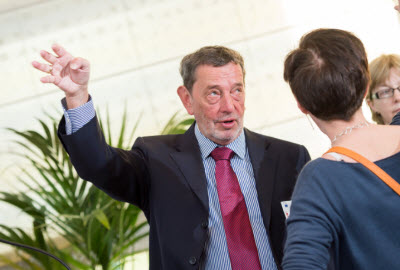 In addition to carrying guide dogs on board, easyJet has a range of measures for passengers who require special assistance including a customer contact center team who are fully-trained in special assistance issues as well as on-board wheelchairs on all aircraft. Additionally, easyJet crew and its ground agents are trained on special assistance, including how to identify and support passengers with 'hidden disabilities'. The customer satisfaction amongst easyJet passengers with reduced mobility was 84% in the 2016 financial year, which was higher than for customers in general.
easyJet has reviewed all stages in its passengers' journey to ensure that it is as easy as possible and the airline has invested significantly in giving the right assistance for all needs and in the training of its crew and ground operations staff who provide special assistance to our passengers. Details on assistance available can be viewed at https://www.easyjet.com/en/help/preparing-to-fly/special-assistance 
ESAAG is seeking to improve the whole journey, in the airport and on the aircraft, for passengers who need special assistance. 
ESAAG has also helped easyJet to introduce on-board wheelchairs across its fleet and has been involved in changes to cabin layout, which includes a newly designed accessible toilet.