Global leader Medaire explains how disability training helps airports gain efficiency
Written by Roberto Castiglioni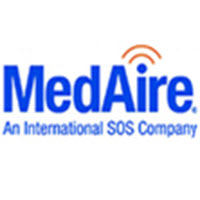 The Ageing Population and PRMs track of PTE2017 will open on March 16th. I spoke with Mark Pearce, Head of Commercial Aviation at Medaire Europe to learn more about his upcoming presentation on disability awareness training.
The company, best known for its flagship medical service Medlink, is also active in the field of training for aviation-related products, including disability compliance and awareness protocols for airlines and airports.
I asked Mark of his time as pilot with the Royal Air Force during which he worked on repatriation flights for injured and immobile personnel and if his experience helped define the disability awareness training programs of Medaire.
From my time flying the repatriations I learnt a number of extremely useful lessons that have helped in the development of MedAire's training: Treat everyone as an individual, because people react to their circumstances in many different ways; looks can be deceptive, as not all of the passengers had physical injuries but still needed assistance, and finally, make time to ask questions and listen to their answers. 
Medaire is the global leader in medical services for aviation. However, its educational products are less known. I asked Mark
to give me insight in what Medaire offers to the air travel industry in this specific field.
MedAire offers many different types of educational products through classroom, webinar, and e-learning: Medical training, both direct and Train the Trainer; Disability Awareness, ACAA, EC1107, CRO and General Awareness; Security Training and Travel Risk, such as Advice for Female Travellers. 
In his upcoming presentation at Passenger Terminal Conference, he will say airline and airport PRM training programs improve overall operational performance and save the airlines and airports money. I asked him to give me an example ahead of his presentation.
It is all about giving the passenger a seamless journey, and one of the best ways to do this is to provide a consistent service through standardized training. If airlines and airports work closely together, they can understand each other's challenges and therefore find efficiencies, such as reducing delays.    
Finally, I asked Mark to tell me, in two sentences, why airports and airlines should choose Medaire over other disability awareness suppliers.
MedAire has been working in the aviation business for over 30 years, and during that time we have developed a deep understanding of the needs of the industry, be it disability awareness, medical or security, and because these three elements are often interlinked, you need a company with the experience and expertise of MedAire to manage this.
Mark Pearce is scheduled to speak on March 16th in the Ageing Population and PRMs track at PTE2017.