Expert analysis of Frank Gardner complaint against airport assistance
Written by Roberto Castiglioni
Last Sunday, BBC Security correspondent Frank Gardner expressed his frustration with airport assistance through Twitter.
Returning from France, Gardner landed at London Gatwick airport and experienced a delay in being helped off the aircraft.
Reduced Mobility Rights has taken a closer look at Frank Gardner's complaint. For those who are not familiar with our website, one of our most popular services for consumers is assistance with complaints.
In the last five years, we vetted over 1.000 complaints logged by disabled flyers against airlines and airports. As members of the UK Civil Aviation Authority Access to Air Travel Advisory Group, we are bound to impartiality.
Our method is straightforward: we analyze the complaint and cross reference its key elements with logs we receive from the operator. Once data coincides, we cross check the information with existing legal requirements.
At the end of the process, we issue a report that can be of two types: final, if we find the operator did not violate existing laws and rules; interim when we believe there has been a violation. In the latter instance, our report is forwarded, along with all acquired evidence, to the National Enforcement Body of competence.
There are two separate elements in Frank Gardner's complaint: delayed assistance and inability to access an adjacent airbridge to facilitate deplaning the aircraft.
Delayed assistance
"Once more stuck on empty plane at Gatwick Airport after all passengers off and heading home as special assistance have
failed to turn up," was Gardner's first emotional outburst on Twitter.
Logs supplied by the operator show the following timeline:
Aircraft arrived on stand at 19.49; Ambulift attached to aircraft door at 20.06; Mr. Gardner at ground level at 20.12.
Frank Gardner waited 17 minutes from the time the airplane arrived at the gate to the time assistance was ready to help him deplane.
The law and guidelines governing the process are Regulation (EC) 1107/2006 and ECAC Doc 30, Annex 5 C.
Per cited guidelines, passengers who pre-book assistance must be helped off the airplane within 20 minutes from its arrival on stand. (ECAC Doc 30, Annex 5 C, Point 7.5)
Unavailability of the airbridge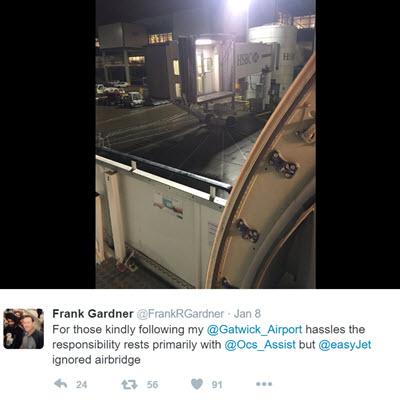 "For those kindly following my @Gatwick_Airport hassles the responsibility rests primarily with @Ocs_Assist but @easyJet ignored airbridge," was Gardner's Tweet venting his frustration about the inability to use the airbridge.
The operator's log indicates the airbridge was not in operation at the time the airplane arrived at the gate. Putting the airbridge into service would have required longer than waiting for the Ambulift to arrive.
Note for readers: budget airlines offer competitive fares thanks to scaled down services. The provision of an airbridge would impact ticketed fares upwards, hence it is common commercial choice among low cost carriers not to use this facility.
Once again, the law and guidelines governing the process are Regulation (EC) 1107/2006 and ECAC Doc 30, Annex 5 C.
Regulation (EC) 1107/2006, Annex I mandates airports shall "disembark [the disabled person] from the aircraft, with the provision of lifts, wheelchairs or other assistance needed, as appropriate".
ECAC Doc 30, Annex 5 C, point 4.1 mandates airports should provide "aassistance in boarding and disembarking, including the provision of a suitable service for passengers who require special access to/from the aircraft (in accordance with local or national regulatory requirements)."
With the provision of an Ambulift, Gatwick airport met the legal obligations and guidelines governing the boarding and deplaning facilitation requirement.
Conclusions
Considering the above evidence, we are issuing a final report on this complaint. We are satisfied London Gatwick airport, its service provider OCS and easyjet all acted within the parameters set forth by existing laws and guidelines.
Final considerations
While empathizing with Frank Gardner, we think his remarks and frustrations should be better directed to lawmakers rather than the operators.
We concur having to wait up to 20 minutes to deplane is an awful long time. While operators always try to shorten waiting
times, they tailor their resources to ensure compliance with laws and rules.
Perhaps one of the upsides of Brexit resides in the restored ability to improve existing laws through national legislation, hence the possibility of swiftly setting tighter operating standards of service for assistance to people with disabilities traveling by air from and to the United Kingdom.
For example, US legislation, 14 CFR Part 382, §382.95 (B) mandates "carriers must, except as otherwise provided in this subpart, provide boarding and deplaning assistance through the use of lifts or ramps at any U.S. commercial service airport with 10,000 or more annual enplanements where boarding and deplaning by level-entry loading bridges or accessible passenger lounges is not available."
Such legal covenant would obligate airlines to make use of airbridges wherever they are available. However, the UK Government's well documented aversion to red tape leads to think enhancements like the one described above would require more than significant public support.
Links to cited legislation (links open a new window)