Gatwick airport and OCS win Dementia Friendly Innovation Award 2016
Written by George Sensalis
London Gatwick airport and service provider OCS group are the winners of the Alzheimer's Society's Dementia Friendly Innovation award 2016.
On Tuesday, winners of this year's Dementia Friendly Awards were announced at an event taking place at Church House, Westminster.
Last March, the then UK Aviation Minister Robert Goodwill MP praised airports and airlines making a difference by meeting the needs of people with invisible disabilities.
"Airports do a good job of helping physically disabled passengers, but what about people whose disabilities are not immediately noticeable, those with hidden disabilities?," the Aviation Minister said. "For dementia sufferers, air travel can be confusing, and even frightening; crowded terminals. Security checks. And fear of flying itself. All these factors can deter people from traveling."
Mr. Goodwill went on mentioning Gatwick airport as an example other operators should follow.  "However, there were some
impressive examples of good practice too," Mr. Goodwill said. "At Gatwick, for instance, more than 80% of frontline staff have received Dementia Champions and Dementia Friends training. On top of this, the airport's introduced its own NVQ Level 2 Certificate in dementia care."
Cognitive impairments like autism, dementia and Alzheimer's should never be seen as an impediment to travel by air. 
Alzheimer's Disease International estimates the global number of people living with dementia today is 44 million. The federation suggests this will climb to 76 million by 2030 and 135 million by 2050. 
The travel experience of a passenger with Alzheimer's can plunge into chaos at its early stages, as soon as the person reaches the airport terminal building. A new, largely unknown location or a crowded terminal building can cause the onset of severe disorientation.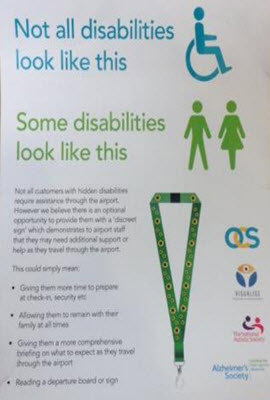 On board the aircraft, factors such as cabin pressurization, a crowded cabin, and seating restrictions (safety belts) may also trigger unexpected behaviors.
In cooperation with OCS group, Gatwick airport recently launched initiatives to make flying with dementia easier.
A lanyard is available to those passengers who require more time to check-in or clear security, to stay with their carers, and may require additional care throughout their journey. 
Staffs received special training to recognize the discreet lanyard and assist the person in an efficient and dignified manner. 
Nominees and winners of this year's Dementia Friendly Awards were selected by a panel of people with dementia and their carers and industry experts.