Cairo new T2 set to raise the bar on airport accessibility
Written by Roberto Castiglioni
Closed in 2010 for renovations, the fully rebuilt Terminal 2 of Cairo International Airport embeds accessibility at its core.
Last weekend Reduced Mobility Rights was given exclusive access to the almost complete airport Terminal. Our walkabout of CAI T2 allowed for a close look at facilities for passengers with disabilities.
T2 physically sits between Terminal 1 and Terminal 3, but it is light years apart when looking at accessibility of the infrastructure.
Once opened, Terminal 2 will take on airlines now operating from Terminal 1, which will then undergo full refurbishment as well.
During our visit, we briefly visited CAI older Terminals. The renowned Egyptian hospitality more than compensates for facilities that are lagging behind Western standards. 
For example, in a Country where orderly queueing is a unique sight, it is crucial that Passengers with Reduced Mobility are offered priority boarding. This is indeed always the case at Cairo International airport.
As we understand, airport management is planning to improve facilities for disabled passengers in its older Terminal buildings; hence we focused our visit on Terminal 2 which could be easily described as the most recent Jewel of the Nile.
Our first impression of Terminal 2 is that it clearly embeds the Path of Travel, a continuous and unobstructed way of passage consisting of walks and sidewalk, curb ramps and other interior or exterior pedestrian ramps, clear floor paths through lobbies, corridors, rooms, elevators, and lifts.
It is important to note that pictures taken during our visit reflect the state of areas at a time when the new building is still a construction site.
Passengers with Special Needs arriving at Terminal 2 curbside find a clearly marked drop-off point in the close proximity of entrance number 2.
Once inside, a meeting point featuring several rows of reserved seats is available to passengers while staffs take care of their check-in procedures.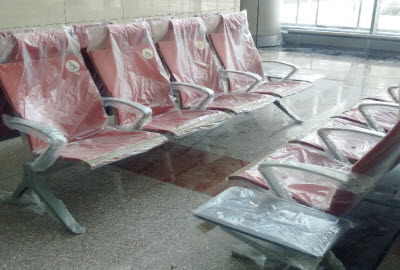 The meeting point is conveniently located opposite to accessible toilets. 
One major improvement of T2 is the use of clear and intuitive wayfinding placed in areas that give an unobstructed view from far afield. At the time of our visit we did not find any particular problem with glare, something that can make Flight Information Display systems and wayfinding signs hard to read for people with some forms of visual impairment.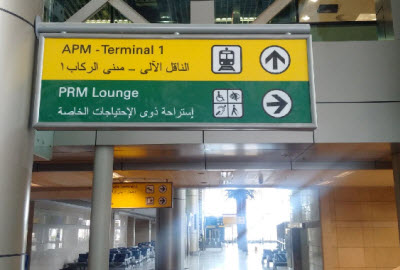 Information desks feature accessible corner. This is not the case with check-in desks. However, we were told that staff usually takes on all check-in procedures on behalf of passengers with disabilities.
In a perfect world, we would like to give people the option of remaining fully independent throughout their journey, hence we would welcome the availability of accessible desks, as well as accessible passport control kiosks.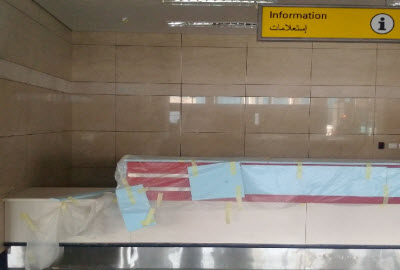 Accessible toilets are built and fitted to Western standards. We suggested the creation of at least one Changing Place for adults in the Arrivals Hall and one in the Departures Hall airside to ensure people with severe mobility restrictions can freshen up after a long flight.
Hearing loops for people suffering from hearing loss will be deployed after the soft launch of the new terminals. It is common procedure for all new airport terminals to start operations with a limited number of flights to test all systems and features in a live environment.
In the coming months, Cairo Terminal 2 will be officially inaugurated in the presence of the President of The Republic of Egypt Abdel Fattah El-Sisi. 
Accessible tourism is a multi-billion dollar industry growing at a double digit rate year after year. President El-Sisi will have every reason to be proud of the excellent work done by Cairo International airport management, whose efforts to facilitate accessible tourism will indeed boost the Egyptian Tourism Industry.