Lord Blunkett: ESAAG seeking to improve the journey for passengers with special needs
Written by Roberto Castiglioni
The easyJet Special Assistance Advisory Group (ESAAG) was established in 2012 to provide feedback and guidance to easyJet on the services it provides to passengers with disabilities. 
Chaired by Lord Blunkett, the group is made up of experts in disability issues and accessible travel from across Europe. Members meet regularly with easyJet managers to discuss the company's forward proposals, best practice and emerging issues. 
The largest UK airline by number of passengers carried, easyJet assists more than 400,000 passengers with special needs every year. This is a growing number and as societies across Europe age it is very likely that more people will need this assistance in the future. easyJet wants to be an airline for everyone, including people with disabilities and those with a variety of challenges requiring additional support.
"We have worked to improve the experience for easyJet passengers," Lord Blunkett said. "ESAAG has helped easyJet to introduce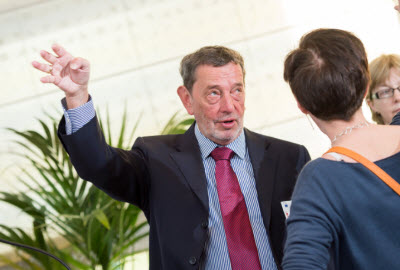 on-board wheelchairs across its fleet and a newly designed accessible toilet. The group has also had a role in wider easyJet projects, such as the consolidation of easyJet operations at London Gatwick into the North Terminal and digital developments such as improved information and advice, the on-going reconfiguration of the easyJet website and apps for use in navigating airports." 
The customer satisfaction factor amongst easyJet passengers who need special assistance was 87.4% last year, higher than for customers in general.
"ESAAG is now seeking to improve the whole journey for passengers who need special assistance," Lord Blunkett added. "Customers understandably expect that when they book assistance this will be done seamlessly between the airline, assistance provider and the relevant airports.
We see our task as facilitating a speedier and more customer-friendly experience for all passengers and the improvement in reputation and, therefore, customer satisfaction." 
Under European regulation, the airport and airlines have responsibilities to the passenger, but as far as the passenger is concerned, their experience is largely dependent on the airline. 
ESAAG has produced a pan-European charter on meeting the needs of air travellers with disabilities. The Charter recommends best practice for all aspects of aviation special assistance. 
"It was launched at the European Parliament and since then we have been discussing it with stakeholders across Europe," Lord Blunkett said. "We would welcome the opportunity to engage with any groups who are interested in the Charter and its recommendations. At ESAAG, we want to continue to help deliver real improvements for passengers and drive competition within the industry to improve the service offered to travellers."
Lord Blunkett will be speaking on 15 March 2016 at the Passenger Terminal Conference in Cologne. Click here to read more about the Ageing Population and PRMs track of #PTECologne