UK Aviation Minister Robert Goodwill praises industry efforts to meet the needs of people with invisible disabilities
Written by Roberto Castiglioni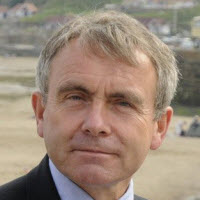 At the Airport Operators Association annual dinner on Tuesday, UK Aviation Minister Robert Goodwill MP praised airports and airlines making a difference by meeting the needs of people with invisible disabilities.
In his keynote speech, Mr Goodwill said that one of the challenges for airports is the sheer diversity of the customer base. 
"Airports do a good job of helping physically disabled passengers, but what about people whose disabilities are not immediately noticeable, those with hidden disabilities?," the Aviation Minister said. "For dementia sufferers, air travel can be confusing, and even frightening; crowded terminals. Security checks. And fear of flying itself. All these factors can deter people from travelling."
Mr Goodwill said that according to a research conducted by the Civil Aviation Authority, as many as 7 percent of all people could be avoiding air travel because of a hidden disability.
The Aviation Minister pointed out that when the CAA did a review of airports' and airlines' current arrangements, they found a wide variation in standards and practices, with some airports described as 'significantly underprepared' to meet the needs of people with hidden disabilities.
"However, there were some impressive examples of good practice too," Mr Goodwill said. "At Gatwick, for instance, more than 80% of frontline staff have received Dementia Champions and Dementia Friends training. On top of this, the airport's introduced its own NVQ Level 2 Certificate in dementia care."
The Minister also praised measures to help autistic children and their carers put in place by Manchester Airport.
Mr Goodwill, who recently met with members of the UK Prime Minister's Dementia Taskforce said he was told how they've been working with the aviation industry on this issue.
"I was particularly impressed by the feedback they received from someone who cares for a dementia patient, who praised the outstanding door-to-door service they'd received from EasyJet on a recent trip," Mr Goodwill said. "So there's lots of great work going on."
Mr Goodwill concluded his speech by saying that each airport will find its own solutions as there is no "one size fits all" recipe and urging operators to consult with passengers with dementia and organisations to really understand and respond to their needs.
Related Articles
Heightened security levels and flying with a disability
American Airlines sued for losing dementia sufferer
Non-Passenger Escort Passes Make Flying With Dementia Safer
Easyjet First Airline To Join Dementia Friends Initiative
Air Travel Tips Flying With Dementia Checklist