Air Canada ordered to stop discriminating against deaf-blind people
Written by George Sensalis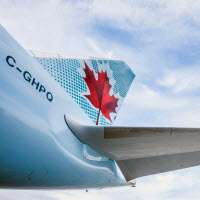 The Canadian Transportation Agency ordered Air Canada to change its policy requiring people who are both deaf and blind to travel with a companion.
Carrie Moffatt, who is legally blind and suffers from hearing loss, filed a complaint against Air Canada after being told she could only travel with a safety assistant. 
On September 25 2013, Mrs Moffatt called Air Canada's special assistance desk after booking a flight on the airline's website.
She explained she is self-reliant as she would be traveling with her guide dog, and her hearing loss is mitigated by earing aids.
The woman was told by the Air Canada Medical Assistance Desk agent that she could not travel alone, as Air Canada's policy does not allow deaf-blind people to travel without an attendant.
Following the investigation into Mrs Moffatt's complaint the Canadian Transportation Agency determined that Air Canada's policy of
carriage of passengers who are both deaf and blind discriminates among disabilities. 
The CTA found that there the airline's policy does not differentiate between persons who are deaf-blind and self-reliant, and persons who are deaf-blind and non-self-reliant. In other words, Air Canada assumes that all persons who are deaf-blind are non-self-reliant and therefore require an attendant to travel.
In its findings, the CTA said Air Canada's policy at the time of Ms. Moffatt's travel constituted an undue obstacle to her mobility and that of other persons who are partially deaf-blind. 
However, Air Canada subsequently filed an amended version of the policy that no longer states that a person who is deaf-blind requires an attendant. 
The Canadian Transportation Agency accepts that by removing this discriminatory assumption, Air Canada has provided an accommodation that meets the needs of persons who are partially deaf-blind.
Air Canada has been given until December 15 2015 to ensure Medical Assistance Desk clerks as well as staff at all customer contact points are aware of how to properly apply Air Canada's policy and procedures with respect to the determination of the self-reliance of passengers who are partially deaf-blind.