New lounge for disabled passengers to open at Munich airport
Written by George Sensalis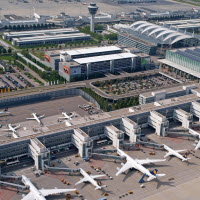 Munich Airport is taking disabled passenger experience to the next level with the opening of the new Satellite Terminal in April 2016.
The new Terminal will boast quiet zones, showers near the gates and baby changing tables in the men's and women's restrooms, along with an almost endless range of new and attractive services and amenities.
Everything has been thought out to make the journey as seamless as possible. All waiting areas have quiet zones featuring comfortable reclining seating. 
Free WLAN access and plenty of electric outlets and USB connections are available to those who wish to catch up with their work or simply recharge their electronic gadgets ahead of their flight. 
Clearly marked play areas for children will let the little ones expend their excess energy before getting on the plane. For the first time, baby changing tables have been fitted in the men's restrooms to help fathers attend their duties with ease. 
The satellite terminal also offers shower facilities outside the Lufthansa lounges for the first time. The four showers in the gate area are accessible to all passengers. They are located on the Non-Schengen level for those who wish to freshen up before departing on long-haul flights.
Passengers with reduced mobility will be able to relax in their own lounge in the satellite terminal. For peace and quiet, the lounge has four special reclining lounge chairs, each in a separate space. The lounge also features fully accessible toilets and a shower. 
As in Terminal 2, access to planes is barrier-free. The elevators can be operated with no difficulty by passengers with disabilities.
The new Satellite Terminal at Munich airport is scheduled to open in April 2016.