Wheelchair accessible air travel crucial for disabled people
Written by Roberto Castiglioni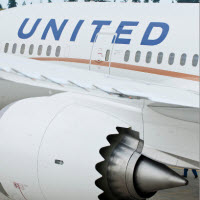 Darcee Neal is the latest person with a disability to gain instant celebrity because of problems with wheelchair assistance while traveling by air.
Last Tuesday the man was left alone on the plane long after his flight from San Francisco landed at Ronald Reagan national airport in Washington D.C.
Darcee was waiting for an aisle chair to help him get off the plane. Aisle chairs are narrower-than-usual wheelchairs to help people with severe reduced mobility enplane, deplane, and move about the cabin.
After waiting for over an hour the man took it upon himself to make his way out of the plane. "I lifted the armrest and got down on my hands and knees and proceeded to crawl. I was in the middle of the plane at that point and I crawled up the rest of the way up the aisle. And I got to the entry way and I crawled to make sure I didn't fall down. It's humiliating," he said.
Ironically, Darcee was returning from an event in San Francisco where he had been speaking on accessible transportation.
"During the deplaning process, we made a mistake about the need for the chair and it was removed from the area," a spokesperson for United Airlines told the Media. "When we realized the error, we returned the chair to the gate, but it arrived too late to assist Mr. Neal."
The airlines has since apologized to Darcee Neal and offered compensation for the incident.
Despite laws protecting disabled access to transportation, traveling by air continues to be a bit of a challenge for disabled people,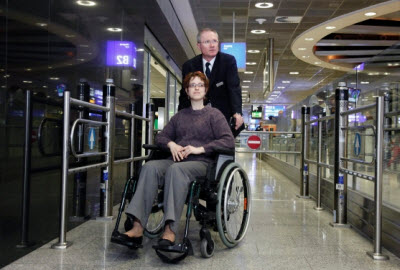 especially those on wheelchairs.
Timothy Wilson and his wife Andrea had planned to celebrate their 10th anniversary in America. In the morning of 8 September 2014 the couple arrived at London Heathrow airport to catch a British Airways flight to Las Vegas.
After a long wait, Heathrow helpers showed up well past Tim's scheduled boarding time and rushed to get him on board the airplane and onto his seat.
"When they got to the seat they took off the straps and lifted the armrests and let me go," Tim recalls with horror. "I was leaning so much to the side I fell out the left of the seat, smashing my face against the bulkhead as I fell to the side. My wife screamed and helpers could catch me before I fell out of the seat."
Tim filed a complaint with US authorities. The DOT's Aviation Consumer Protection Division found British Airways violated the Air Carrier Access Act, the US law protecting the rights of disabled people traveling by air.
Assistance to get on the plane isn't the only area of concern when traveling. Getting help to move inside the airport can be tricky as well.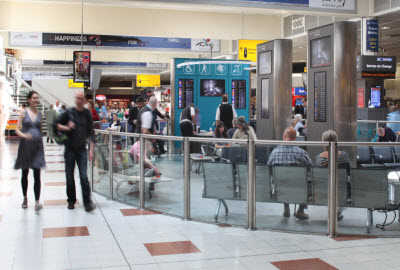 On July 6th 2014, 82-year-old Jeanettem K. missed her connecting flight after JetBlue wheelchair agents took her to the wrong gate at JFK airport. 
"Our customer support team reached out to the customer directly to express our apologies for the inconvenience this oversight caused and for the customer missing their flight," a JetBlue spokesperson said. "We recognize our service failed to live up to the standards set by the Department of Transportation (DOT) and those we set for ourselves. We agree this was unacceptable and will work directly with our Business Partners to ensure they are more adequately prepared."
On 16 February 2013 Christine Lester was left at a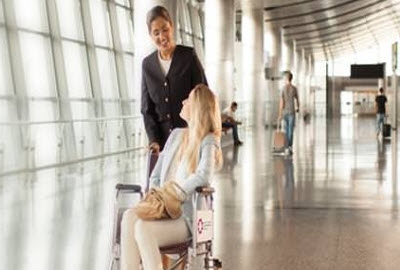 remote gate of Charles de Gaulle airport in Paris for two hours and forty minutes." The wheelchair helper took us to the departure gate and left us without a wheelchair," she recalls. "I could not get back to either the cafeteria or the toilets which were one floor below." 
"Our records show that the wheelchair requested for Mrs Lester, a WCHR code provides a minimum level of assistance as this is for passengers who are able to walk a little and can ascend and descend stairs/steps and make their own way to and from the cabin seat," a spokesperson for Air France said. "That said, it is evident from the correspondence that this was not the service required by Mrs Lester and that there has been a misunderstanding at the time of requesting this service."
Traveling with your own wheelchair can also be problematic, as Darren Smith and Alexandra Singer explain.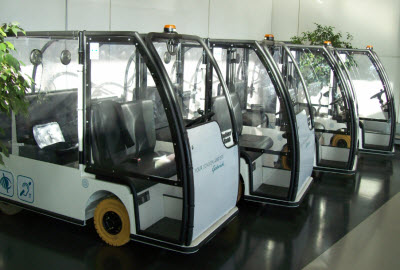 Darren found an unpleasant surprise when he was returned his wheelchair at London Stansted airport." My chair had been so poorly handled that my left hand brake unit which is completely made of metal and secured to the frame by four bolts had been completely twisted and was now completely useless," He said. 
The man was sent to the damaged luggage office. "No one within the airport was in the slightest bothered with just how serious this issue was for me and all I was given was a damage report," Darren said. "I was without any braking system on the left side and therefore completely unsafe, they didn't care in the slightest about me or my safety."
Alexandra has a similar experience at London Luton airport. "When I arrived at Luton airport, my electric wheelchair was not working. There was no offer to help. I was handed over like a piece of baggage to two men who left me at the airline desk," she recalls. "I had to be assertive to make the point that my wheelchair is my legs."
Wheelchair users face additional challenges when traveling on Asian Carriers. Singapore Low cost carrier Tiger Airways (TigerAir)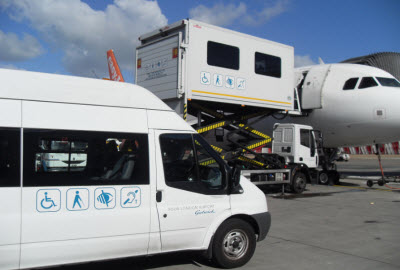 charges passengers with reduced mobility a wheelchair service fee of SGD 50 (£23/$40/€30) per flight. TigerAir charges a separate ambulift service fee of SGD275 (£130/$220/€160) for persons who need a high-loader to enplane or deplane.
Air Asia's customers who need wheelchair service may have to pay up to 11 GBP/17.50 USD/14 Euro per leg if they book the service at the airport check-in desk, 5.50 GBP/8.75 USD/7 Euro if they book the service online. 
But charges depend on destination. Wheelchair service for flights from Kuala Lumpur to Beijing is free, but charges apply to flights from Kuala Lumpur to Hong Kong. Air Asia wheelchair service is also free on flights to and from Australia, but charges apply to flights to India, Indonesia, and Thailand among other destinations.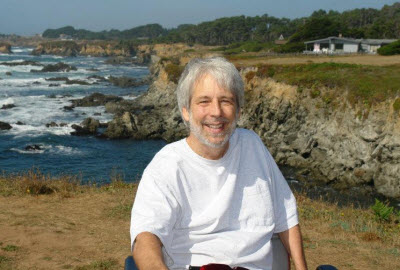 Making air travel wheelchair accessible is not only crucial for disabled people; it is also a way for the travel industry to boost their profits by offering disabled access holiday packages.
On average, every day more than 8 million people fly. In 2013 total passenger numbers were 3.1 billion. Approximately one per cent of all passengers request some sort of assistance while close to an additional five per cent of people with a disability rely on assistive technology to retain their independence throughout the journey.
"In the UK 10million adults with disabilities have an annual purchasing power of 80 billion pounds sterling. In 2001, economically active Canadians with disabilities had $25 billion Canadian dollars available," Life-long advocate for inclusive global travel and Universal Design Scott Rains said. "Americans with disabilities or reduced mobility have $175 billion in purchasing/consumer power. In 2002, these individuals made 32 million trips and spent $4.2 billion on hotels, $3.3 billion on airline tickets, and $2.7 billion on food and beverages while traveling."
"It is time for all tourist destinations to follow the examples of venues, regions and cities that have started to redress the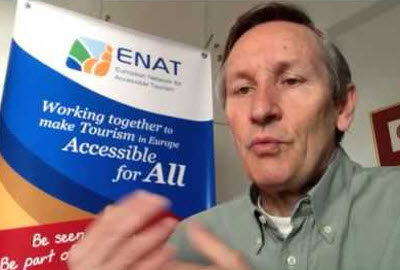 imbalances that have been weighed against people with disabilities in the area of tourism and leisure," Echoes Ivor Ambrose, Managing Director of the European Network for Accessible Tourism (ENAT). "In a world where over 1 billion people travel to other countries each year, achieving tourism accessibility for all is simply a must."
As we have seen, making air travel accessible to people with disabilities not only can be achieved, but is also rewarding for those carriers who get it right. 
Key to success is, quite simply, closer cooperation between airlines, airports, and service providers to create synergies improving the passenger experience whilst streamlining processes and optimizing costs. 
Embedding Universal Design concepts in the planning of new terminals and refurbishment of existing ones, making assistive technology widely available at airports and on planes, increasing safety in the boarding/deplaning process by eliminating manual handling and constant analysis of the ever evolving needs of the traveling public are ideal starting points to improve the quality of access to air travel for people with special needs.