New indoor service animal relief area at Chicago O'Hare airport
Written by George Sensalis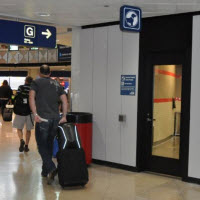 Passengers traveling through O'Hare airport with service animals no longer need to clear security to relieve their four legged companions.
On Tuesday, the Chicago Department of Aviation announced the opening of an indoor service animal relief room at O'Hare International Airport.
O'Hare airport's new relief area is conveniently located past security checkpoints in the Rotunda area of Terminal to ensure people with disabilities no longer need to pass back through security to relieve their service animal.
The room has two, 2-foot by 4-foot pet relief areas complete with artificial grass covering, miniature fire hydrants and pop-up sprinkler systems to wash away liquid waste into a drain. 
In addition, a mounted hose bib and reel is available for manual spraying and plastic bags are provided for clean-up. The room is
enclosed, has a door with a glass pane that opens and closes automatically, and is wheelchair accessible. 
Chicago O'Hare International airport features three more outdoor service animal relief areas located near the lower level curb front of Terminals 1, 2 and 5.
"The new indoor animal relief area located in the secured terminal of O'Hare International Airport will enhance the traveling experience for individuals with service animals, particularly those with connecting flights," The Chicago Mayor's Office for People with Disabilities Commissioner Karen Tamley said. "This feature is another step towards our goal of making Chicago a world class accessible city for people with disabilities."