"Can't help you board" Air Canada leave disabled man at gate
Written by George Sensalis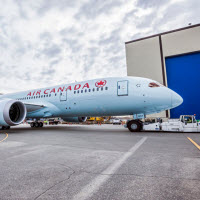 Jerremy Lorch is filing charges against Air Canada for violating the Air Carrier Access Act after airline staff said they could not help the wheelchair user board his flight on the ground of his disability.
"You need it? We got it! The Greater Rochester NY International Airport is one of the easiest airports to fly in and out of," says the Greater Rochester New York International Airport website. But Jerremy Lorch begs to disagree with the statement.
Last Wednesday the wheelchair user was traveling from Rochester NY International Airport to Vancouver where he was scheduled to attend a conference on 18th century literature.
Knowing he needs help to get on board his flight, Lorch booked special assistance at the time of buying his ticket to Canada. However, once at the airport, Air Canada ground staff told him they could not help him.
"The supervisor told me they could think of four other times they had dealt with people in a wheelchair before and they were able to help in those situations, because those people were able to walk," Lorch said. "I'm not able to walk at all. I felt like I was being blamed."
Air Canada issued an apology. "I can confirm we have been in contact with the customer to apologize and refund his ticket and conference expenses. Moreover, we are reviewing the matter with our ground handler in Rochester to prevent this recurring," a spokesperson for the airline said.
The airline explained Rochester is an airport they serve through our Air Canada Express partner Air Georgian.
"I was completely discriminated against and my opportunity to go to this conference and participate in the conference and make the
connections and deliver my scholarly research, participate in learning about other people's research that has passed. That's not going to happen," Jerremy Lorch said. "I have been on planes before. I've been on little planes before. It's never been a problem, at least not to this extent and I couldn't believe that it wasn't going to happen."
The disabled man's lawyer said he is filing charges against the airline for violating the Air Carrier Access Act.
According to the Air Travel Consumer Report published by the Department of Transportation, in 2014 Air Canada (18) was the second only to British Airways (25) in the total number of disability related complaints filed by disabled passengers against foreign carriers.